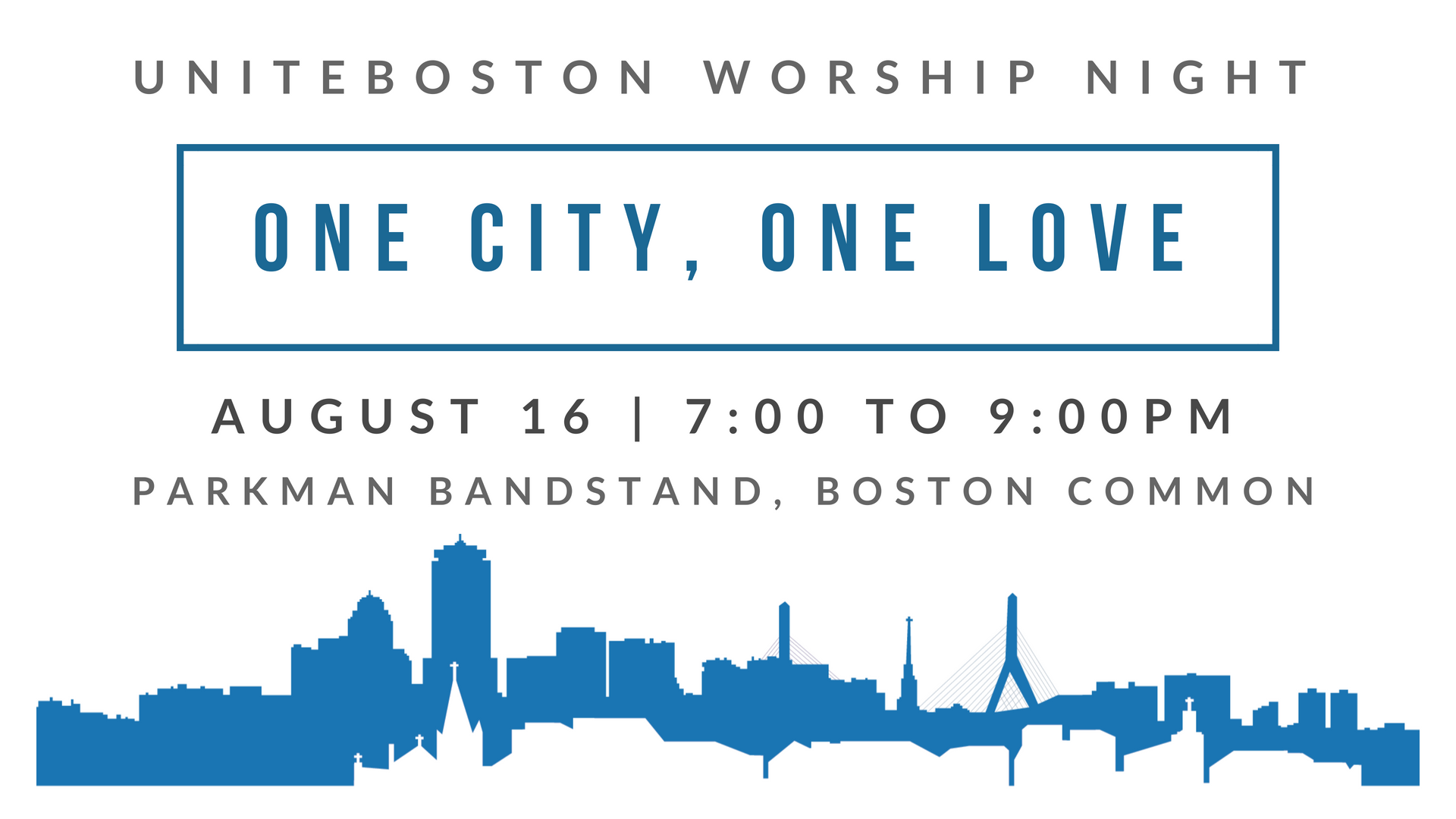 Pastors and Leaders: Click Here to Download the Letter about the UB Worship Night and the application for a sponsored table.
Also, click here to read an endorsement for our worship night from Pastor Dave Swaim of the Highrock Church Network! And check out another endorsement from the Catholic Archdiocese of Boston!
---
There is something powerful about worshipping Jesus together.
Last year, Uniteboston hosted our first night of worship in the Boston Common, and it was a huge success!
"As ever, the simple act of all different people coming together to lift up the name of Jesus is the witness to the world that He is Lord. Our response to being created by God is to love Him and to share that with the city. As the lights came one in the buildings and the moon came up in the dark blue velvet sky, we planted God's love in the heart of Boston."
-Dr. Vito Nicastro, Archdiocese of Boston and UB Board Chair

"UniteBoston made the love of God visible in Boston on August 26th. God's peace paid us a visit because it is only when we come together to love one another, that God's peace will show up."

–Read Rev. David Nunez' blog about his experience at last year's worship night

"I have never quite seen something like the worship night in Boston in such a public space. The location was perfect for catching passerby's who would perhaps not normally find themselves at church but enjoyed the music. Also, because the music was specifically Christian, some people came up and asked for prayer or names of churches in the area. This provided a wonderful opportunity for ministry."
-Jacqueline Turner, Aletheia Church
We are excited to announce that this year's summer worship night will be on Thursday August 16th from 7:00 to 9:00pm in the Parkman Bandstand in the Boston Common! 
Here are some ways you can help:
1. Spread the word – We appreciate your efforts to get the word out to congregation members and colleagues through Facebook invites, email campaigns, and church announcements. Here is a letter that is addressed to pastors and ministry leaders.
2. Host a Table – This year, we are coordinating sponsored tables as an opportunity to help spread the word about your church, ministry or business. The cost ranges from $100 to $250 depending on the organization size; all proceeds go to support the cost of coordinating the worship night. Click here for the application!
3. Donate – This event requires a variety of resources, including supplies, sound equipment rentals, and food. We would be honored if you would consider donating to help make this event successful: www.uniteboston.com/give
4. ​Get Involved – We'd love to have you involved on the logistics, music, outreach, or prayer teams! Email Kelly Fassett, kelly@uniteboston.com for more information
5. Pray – Prayer makes a huge difference! We appreciate your prayers for smooth logistics, for unity among the various volunteer teams, for God's presence to be made manifest through the worship team, for financial provision, and strong advocacy for the worship night among the varied church networks in our city.
Come worship with us on August 16th at 7pm at the Parkman Bandstand in Boston Common!
Thank you for joining into the UB community – As Christians, we are better together!