Welcome to UniteBoston!
We're so glad that you found us – We're here to help you discover what God is doing in Boston!
One of the best ways to stay in touch with us is to sign up for our weekly newsletter – That way, you can hear about the latest Christian news and events and keep in touch with all that God is doing throughout Boston.
We're cultivating a movement in Boston that is motivated by Jesus' prayer in John 17 "That they would be one" so that the world will see Jesus as the Son of God. We are intentional about including Christians from all different backgrounds within UniteBoston's leadership and programming. We're seeking to bridge historic divides among Christians from various denominations, races, and generations. Here's a short video explaining the vision behind our ministry.
What We Do
Our mission is to nurture Christian unity through relational connections. We help Christians come together to pray together, serve together and nurture the bonds within the Christian family.
We run a website and send out a weekly email newsletter as an infrastructure for communication for Christian events happening around Boston. Our website also has forums which connect resources and needs throughout the Christian community. This promotes a greater sense of awareness and a go-to location for what churches are doing in the city. You can submit your event by clicking here!
We host united worship and prayer initiatives to gather the Christian community to connect with God and one another through worship, prayer, and fellowship. We host a summer worship night and we also coordinate gatherings during the Week of Prayer for Christian Unity (January 18 to 25 annually). The evening gatherings are designed to reflect the diversity of Boston's Christian community and promote ecumenical understanding.
We host Neighborhood Dinners coordinated by our team of UniteBoston Reps who are building relational connections within neighborhood communities. By being a learner of neighborhoods, UniteBoston Reps devote their attention to a specific geographic locale to find out where God is working and how churches can collaboratively serve together to further that work.
To join into UniteBoston, we encourage you to sign up for our newsletter using the box above to see the latest news and happenings! We'd also enjoy meeting with you to hear more about your community and discuss together its contribution to Christian unity in the city.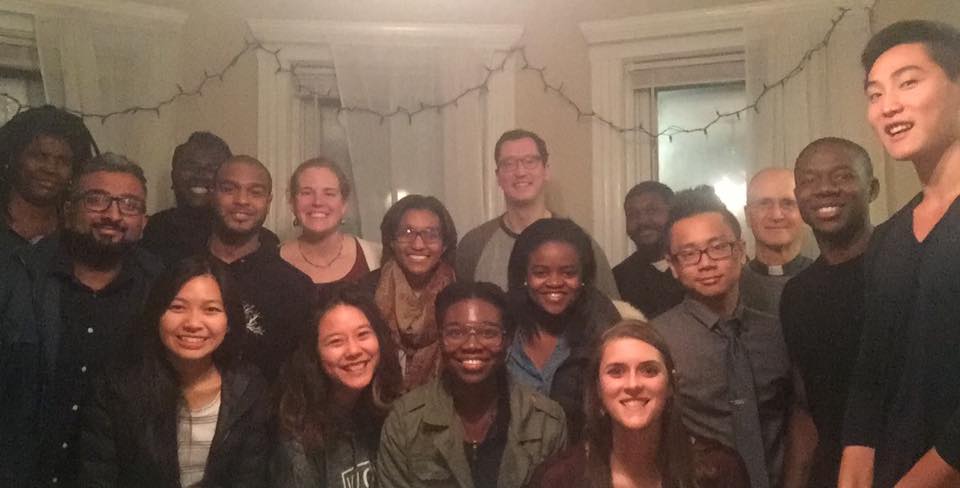 Below are some ideas of how you can help further UniteBoston's mission – Thanks for joining in! 
Introduce
Please introduce UniteBoston to the people, churches and ministries that you know! It is our dream to have every Christian in Greater Boston connected to our network. With your help, this dream can become a reality.
Help spread the word:
Forward our weekly newsletter, encouraging people to join our mailing list.
Bring UniteBoston up in conversation with your friends, and mention what God is doing throughout the city!
Share a status update on Facebook or a tweet on Twitter about UniteBoston, encouraging them to join our mailing list
Send us the information for the public events taking place at your church by filling out the Submit Event form
Meet with us so we can learn more about your story and all that God is doing in your midst! We have many UniteBoston Reps who would be happy to sit down with you and grab a cup of coffee. Please contact us!
Make A New Friend
Christian unity is primarily about having the opportunity to see Christ in others. One of the best things to do to promote Christian unity is to make a new friend from a Christian tradition very different from your own. Take the initiative to meet up with this person for a cup of coffee or bite to eat, or join them for their worship service. What aspect of their faith in Christ can you learn from? What can you bring back to your own personal devotions or congregational practices?

Donate
UniteBoston is thankful for the generosity of our supporters! UniteBoston is a 501c3 non-profit organization, so all donations are tax-exempt.
If you would like to donate, please send a check payable to UniteBoston to the address below or use the Donate button below to give online.
UniteBoston
PO Box 961162
Boston, MA 02196
---

Volunteer
The current UniteBoston team is a tight-knit group of people that are committed to one another and to joining God in His work in this city.  If you believe in Christian unity and want to be a part of a community that is working to make the unity we share in Christ visible, please prayerfully consider joining our team! These positions can also be used as internships to build the necessary skills and experience for a potential career in ministry.
There are a variety of volunteer positions that can be tailored based on your individual interests, skills and passions. If you would like to serve with UB, please contact Kelly Steinhaus, UniteBoston's Team Leader at kelly@uniteboston.com.
Thanks for joining into this movement towards the oneness of Christ's church! We are grateful for you!