The Week of Prayer for Christian Unity is an international initiative where Christians worldwide are reminded of Jesus' prayer for his disciples that "they may be one so that the world may believe" (John 17:21). Locally, UniteBoston coordinates evening collaborative gatherings of fellowship, prayer and worship from January 18-25 annually.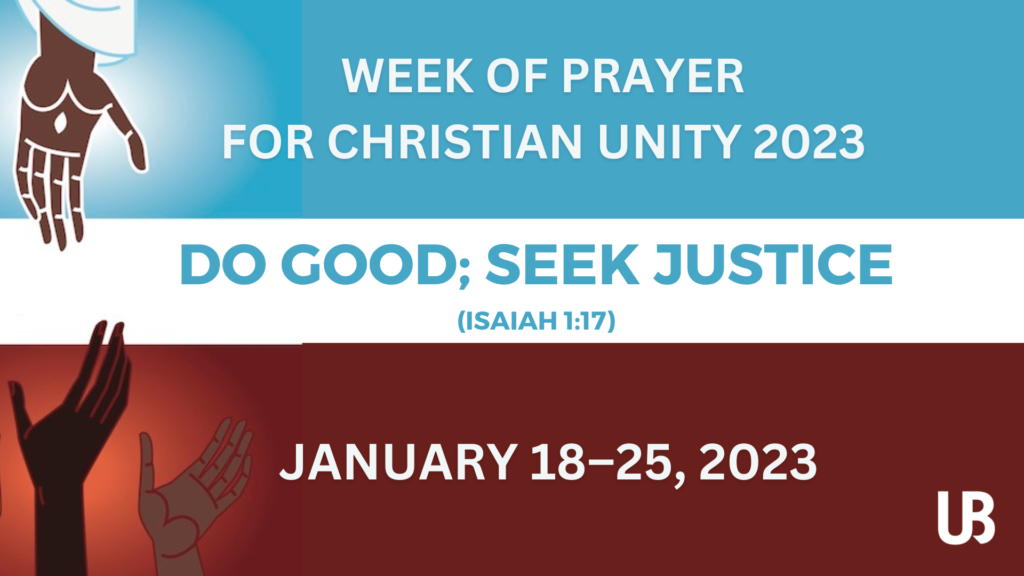 This year's theme for the Week of Prayer for Christian Unity is from Isaiah 1:17, "Do good; seek justice." The entire scriptural passage for the theme is Isaiah 1:12-18, lamenting a lack of justice among the People of God. Yet, it also promises redemption by encouraging acts of justice in how we can live our unity as Christians so as to confront the evils and injustices of our time.
The 2023 theme was developed with the assistance of a group of Christians in Minnesota, USA, convened by the Minnesota Council of Churches. Minneapolis, MN became a flashpoint for calls for racial justice and equity during the responses of communities to the George Floyd murder. This received world-wide attention and spurred on an awakening for the unjust reality that communities of color have faced for centuries and the change that is so imperative today.
In its Introduction to the Theme, the organizers write: "Today, separation and oppression continue to be manifest when any single group or class is given privileges above others. The sin of racism is evident in any beliefs or practices that distinguish or elevate one "race" over another. When accompanied or sustained by imbalances in power, racial prejudice moves beyond individual relationships to the very structures of society – the systemic perpetuation of racism. Its existence has unfairly benefitted some, including churches, and burdened and excluded others, simply due to the color of their skin and the cultural associations based upon perceptions of 'race'."
Calling to mind our common Christian commitment to justice and mercy, we pray that the Week of Prayer for Christian Unity, January 18-25, 2023 will be full of moments of conversion of heart through our encounters, so that "all may be one."
Mark Your Calendars – You are invited to mark your calendars and plan to attend the evening gatherings! In this time of Epiphany, we encourage you to receive the manifestation of Jesus Christ through those of different denominations, races and cultures. Let's make the most of these opportunities in order to truly be the family of God and serve as the body of Christ in the world.
Spread the Word – We also appreciate help spreading the word to people in your congregation, family, friends, and neighbors. A personal invitation goes a long way.
Schedule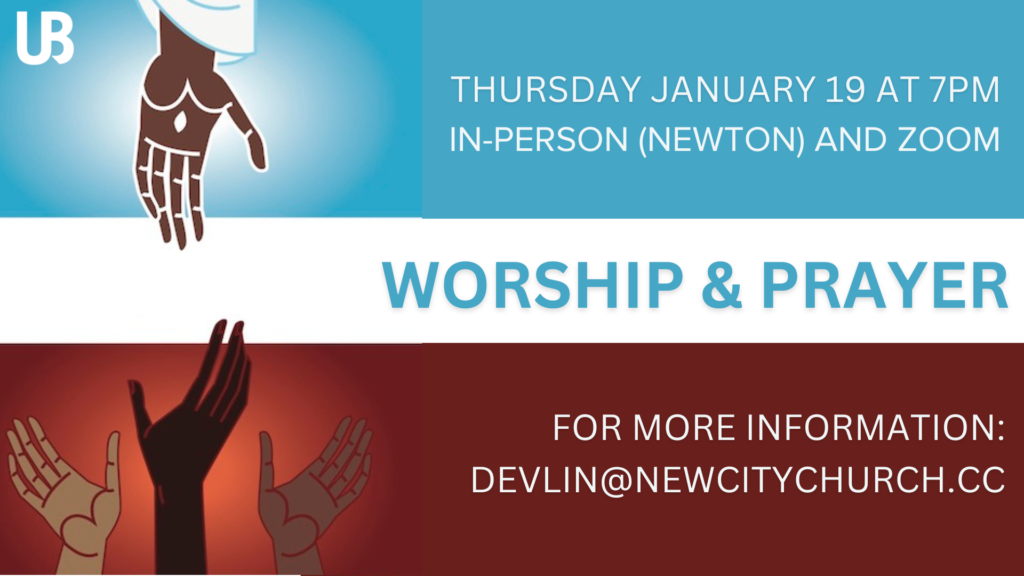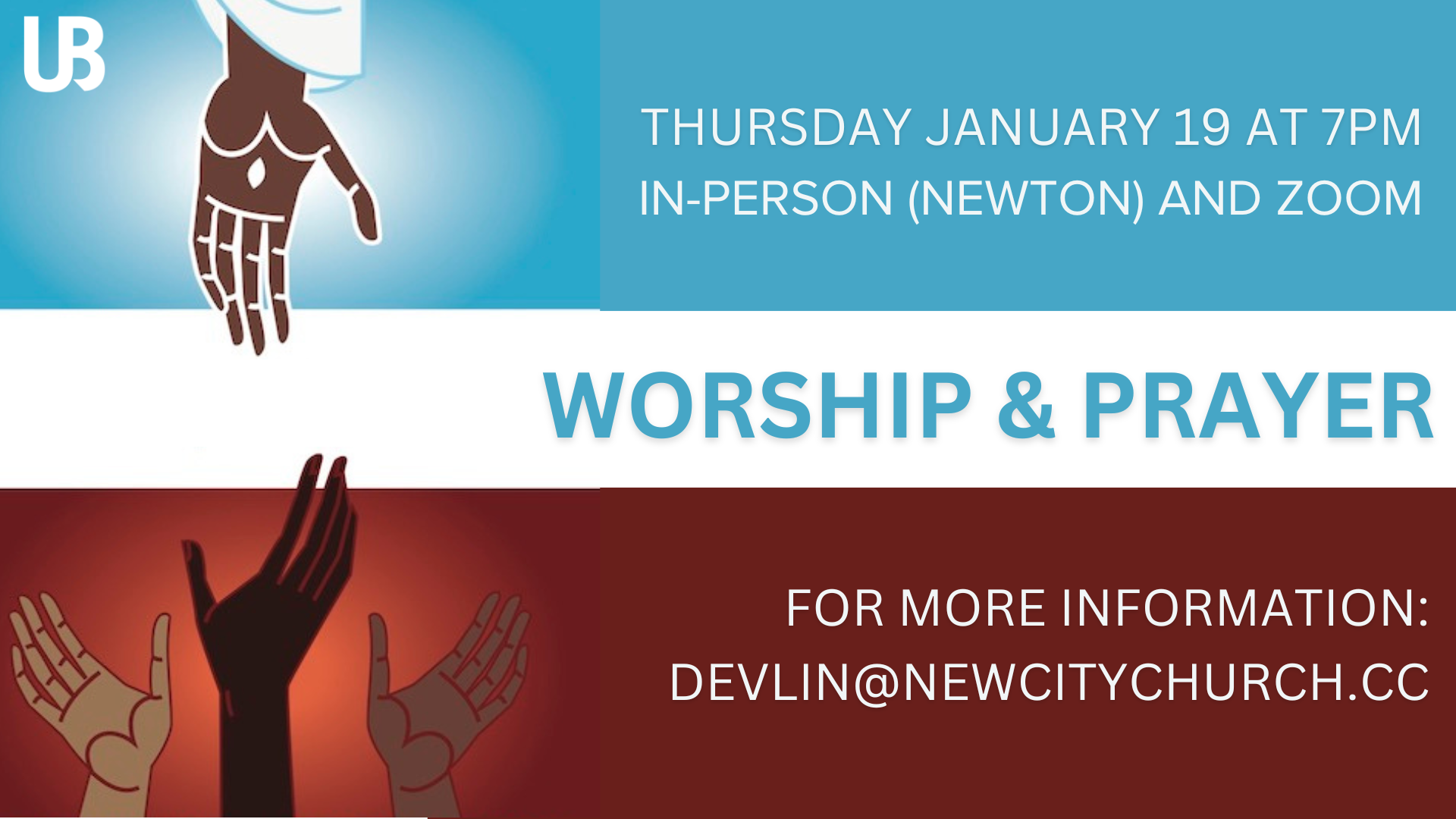 Worship and Prayer for Justice
Thursday January 19 at 7pm | In Person (Newton) and Zoom
Join a diverse group of believers and NewCity Church of Newton for a gathering to lament and repent regarding the church's role in past and present injustices. Let's lean on the Holy Spirit to bring true peace and empower us for the work to achieve it. Email Rev. Devlin Scott at devlin@newcitychurch.cc to RSVP for the specific address or Zoom info.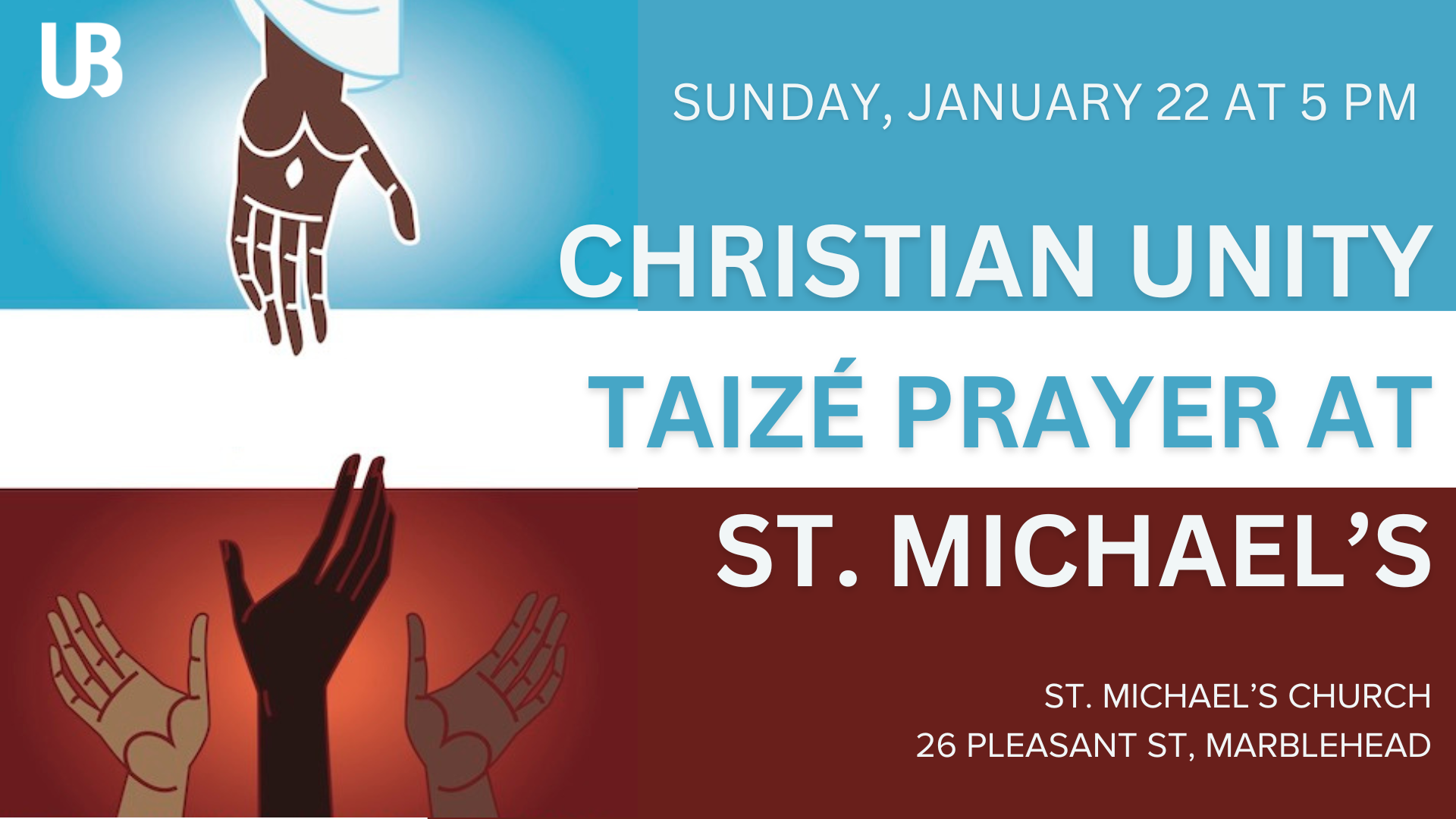 Sunday, January 22 at 5 pm | St. Michael's Church, 26 Pleasant St, Marblehead
Join for a Taize prayer gathering around the theme "Do Good, Seek Justice" through scripture readings, chanted song, and shared silence. All are invited to share in this experience of God's quiet grace.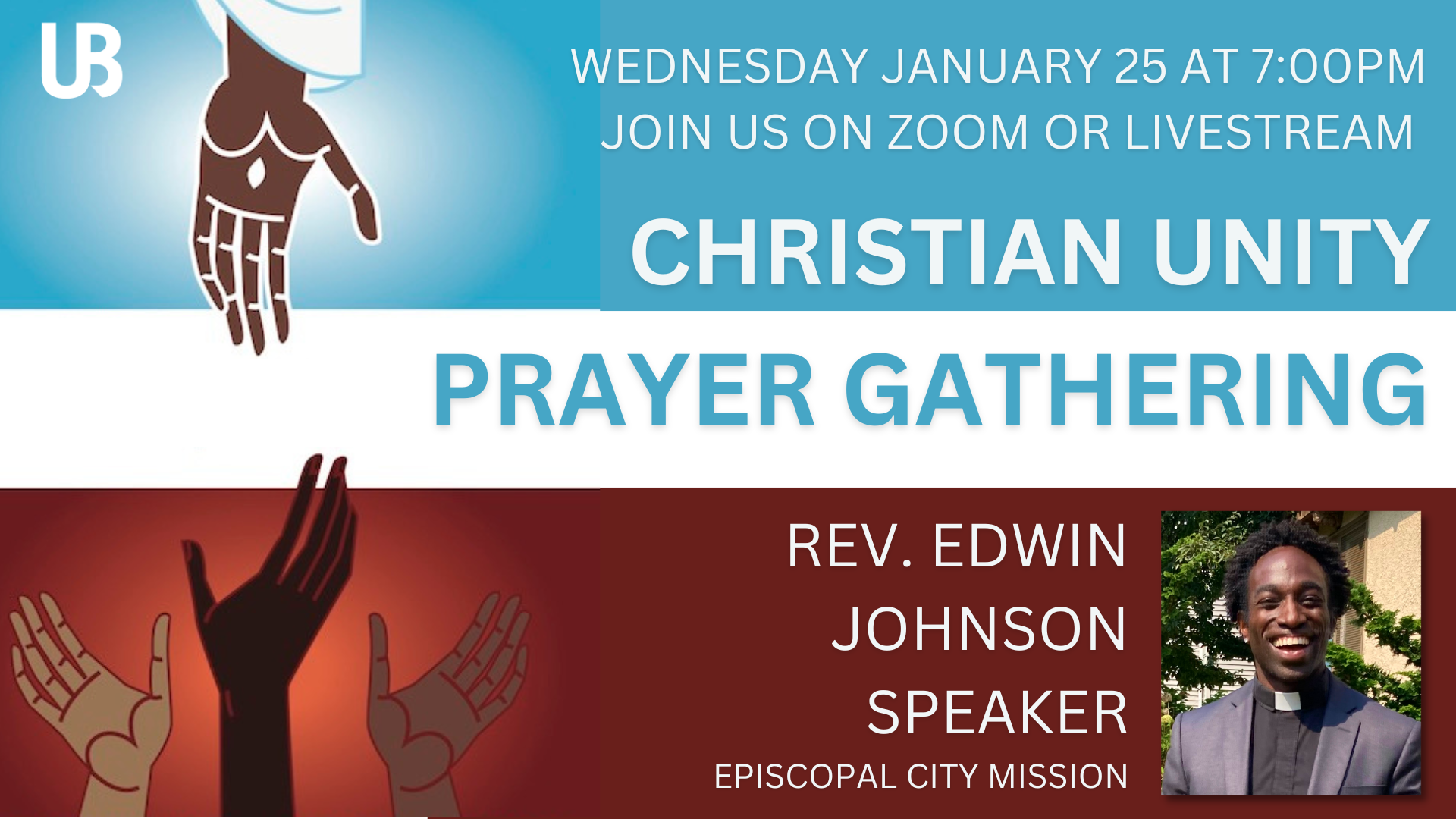 Christian Unity Prayer Gathering
Due to inclement weather, this gathering will be hosted online.
Please join us to pray and live our unity as Christians so as to confront the evils and injustices of our time.
We will be using the worldwide prayer template around the theme "Do Good, Seek Justice" that Christians throughout the world will be using this week. Rev. Edwin Johnson, Director of Organizing at Episcopal City Mission will be preaching, and we will hear stories testifying to how Christian unity can help overcome injustice from Rev. Jua Robinson (Boston Collaborative) and Savina Martin (MA Poor People's Campaign). Co-presiders include Dean Amy McCreath (Episcopal), Rev. Devlin Scott (Assemblies of God), Rev. Kelly Fassett (American Baptist), Deacon Chuck Hall (Catholic).
We look forward to praying with you.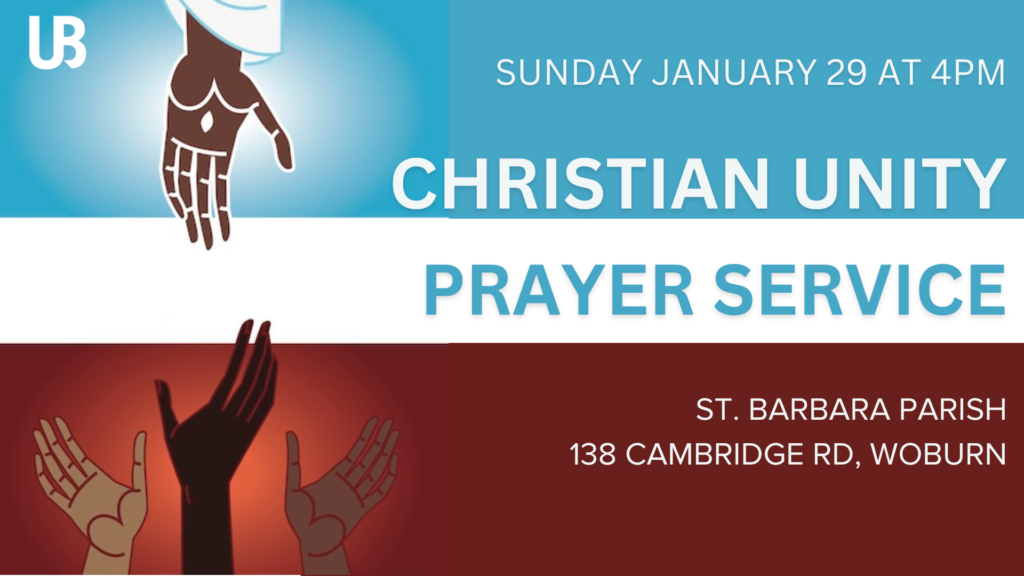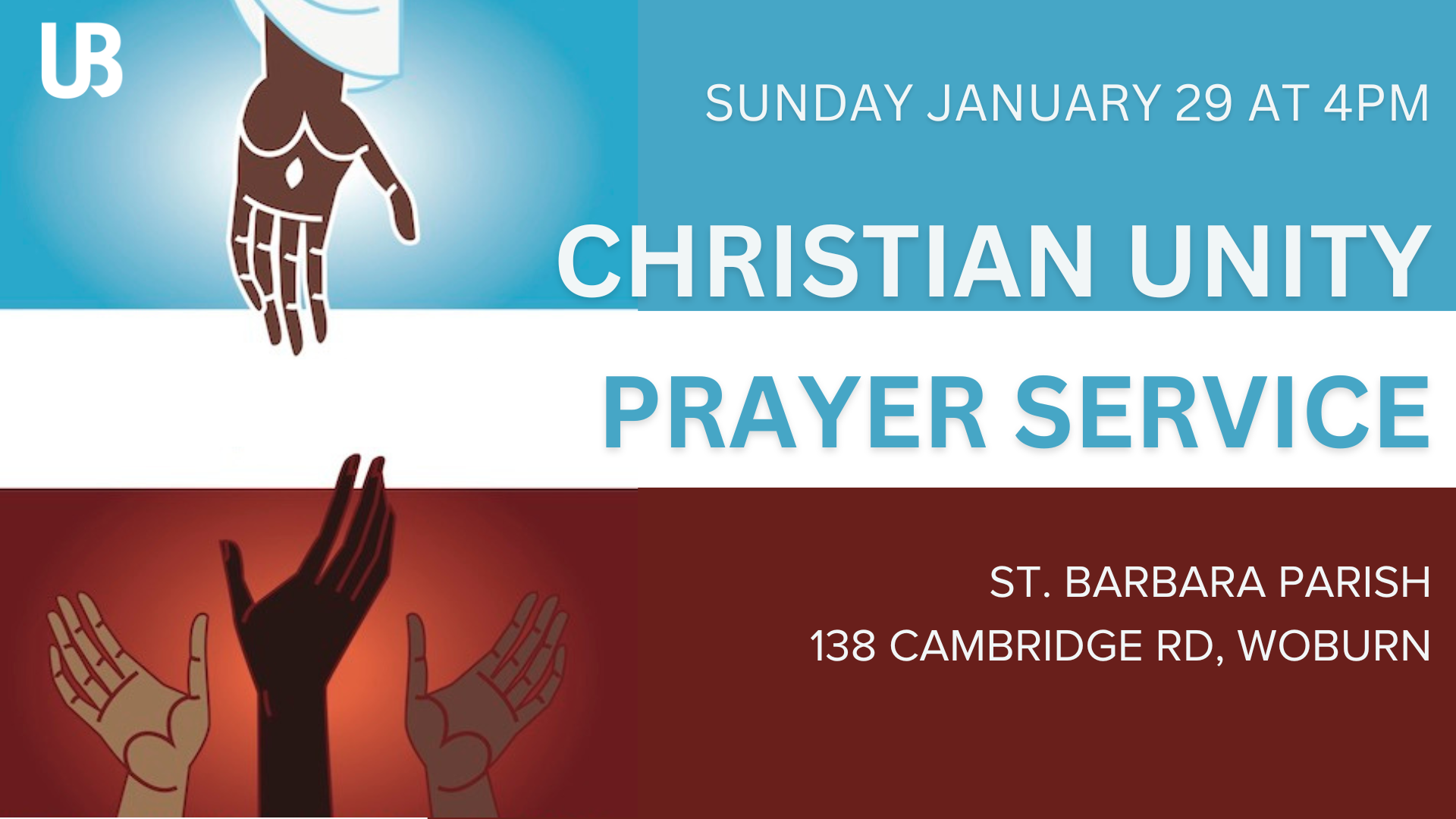 Christian Unity Prayer Service
Sunday January 29 at 4:00pm | St. Barbara Parish, 138 Cambridge Rd, Woburn
A Christian Unity Service will be held on Sunday, January 29 at 4:00 PM at the Woburn Catholic Collaborative – St. Barbara Parish. This prayer service will be led by Fr. Edmund Ugochukwu, a Nigerian Catholic priest, alongside Deacon Ed Giordano, and Pastoral Associate Michelle Park. Please join us to celebrate the Week of Prayer for Christian Unity.
---
Photos from Previous Years