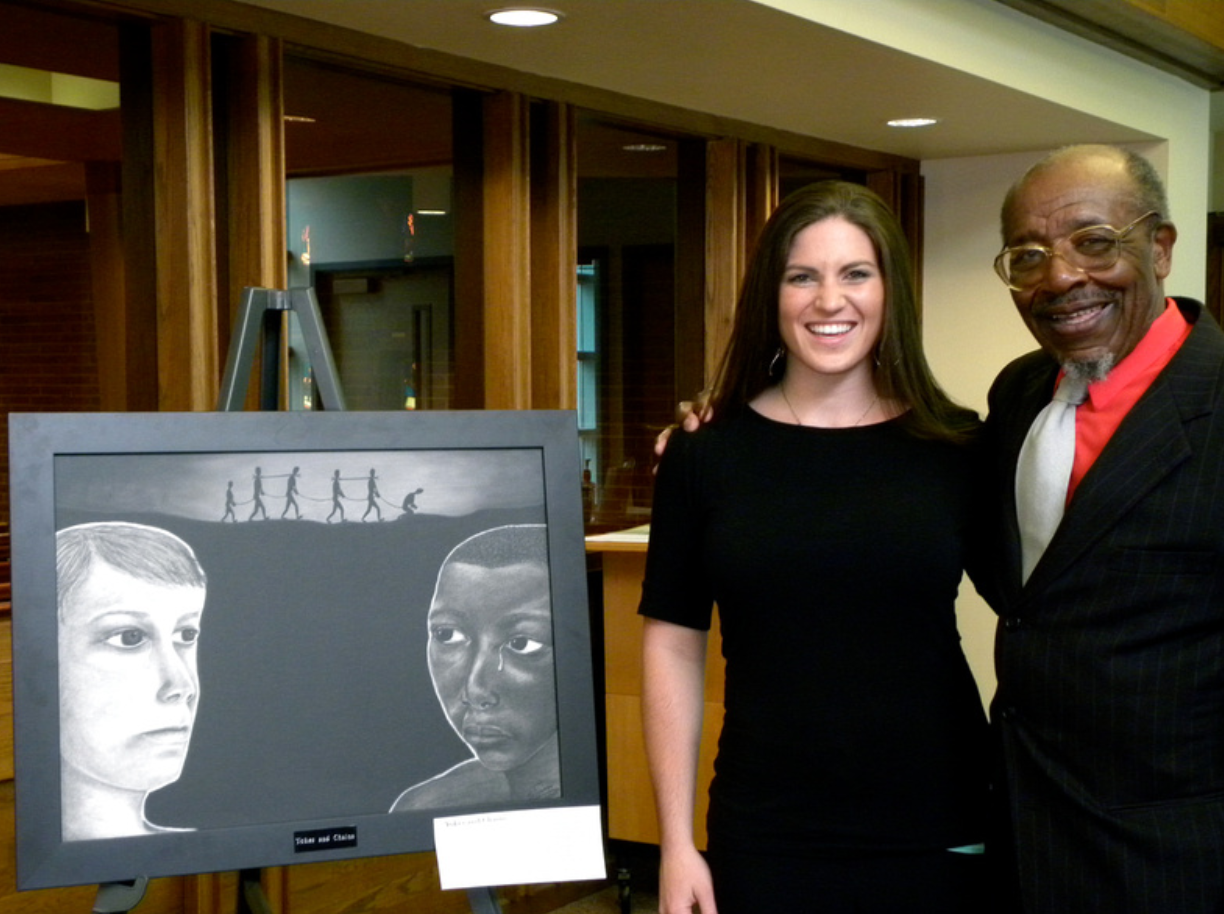 The theme of the 2019 Week of Prayer for Christian Unity is "Justice, only justice, you shall pursue" (Deuteronomy 16:20). In light of this theme, we created this discussion guide around Stephanie Irwin's artwork to invite local conversation around the ways in which we can contribute to God's justice in our communities. 
Stephanie lived in the Longwood Christian Community in 2011 to 2014 while training as a physical therapist. This project was inspired by Stephanie's experience as part of reconciliation workshops in Rwanda, Africa with members of the Tutsi and Hutu ethnic groups. It was there that she learned that healing "could only progress by facing the truth and acting upon it." She created these art pieces seeking to share God's call for justice and reconciliation with all those around her. Stephanie lives in Seattle now. Her artwork and photography are available at https://www.stephanielynnephoto.com/
We are planning to use the discussion guide below during some of the UniteBoston neighborhood dinners, but it could also be used within a church bible study or community group. When coming together with people from a variety of perspectives, it is always good to set expectations and guidelines for the conversation. Together, let us consider how God is inviting us to contribute to acts of justice and reconciled relationships within our lives and communities.
Note: While Stephanie's art focuses on relationships between Black and White people, we recognize that racial justice includes people of all races. Additionally, we value Stephanie's reflections as stated below through her own lens as a Caucasian woman, but we do not seek to universalize her experience or perspective. We felt that this was a valuable lens into one person's understanding of the process of reconciliation, and hope that you will be inspired as well.
---
Jesus stood up to read, and the scroll of the prophet Isaiah was handed to him. Unrolling it, he found the place where it is written: "The Spirit of the Lord is on me, because he has anointed me to proclaim good news to the poor. He has sent me to proclaim freedom for the prisoners and recovery of sight for the blind, to set the oppressed free, to proclaim the year of the Lord's favor." Then he rolled up the scroll, gave it back to the attendant and sat down. The eyes of everyone in the synagogue were fastened on him. He began by saying to them, "Today this scripture is fulfilled in your hearing. (Luke 4:16-21, NIV)
"There is another thing that disturbs me to no end about the American church. You have a white church and you have a Negro church. You have allowed segregation to creep into the doors of the church. How can such a division exist in the true Body of Christ? You must face the tragic fact that when you stand at 11:00 on Sunday morning to sing "All Hail the Power of Jesus Name" and "Dear Lord and Father of all Mankind," you stand in the most segregated hour of Christian America. They tell me that there is more integration in the entertaining world and other secular agencies than there is in the Christian church. How appalling that is." (Paul's Letter to American Christians, Dr. Martin Luther King, Jr., Delivered at Dexter Avenue Baptist Church, Montgomery, Alabama, on 4 November 1956)
"Injustice anywhere is a threat to justice everywhere. We are caught in an inescapable network of mutuality, tied in single garment of destiny." (Dr. Martin Luther King, Jr., Letter from a Birmingham Jail, 1963)
---
Stephanie's Artwork and Reflections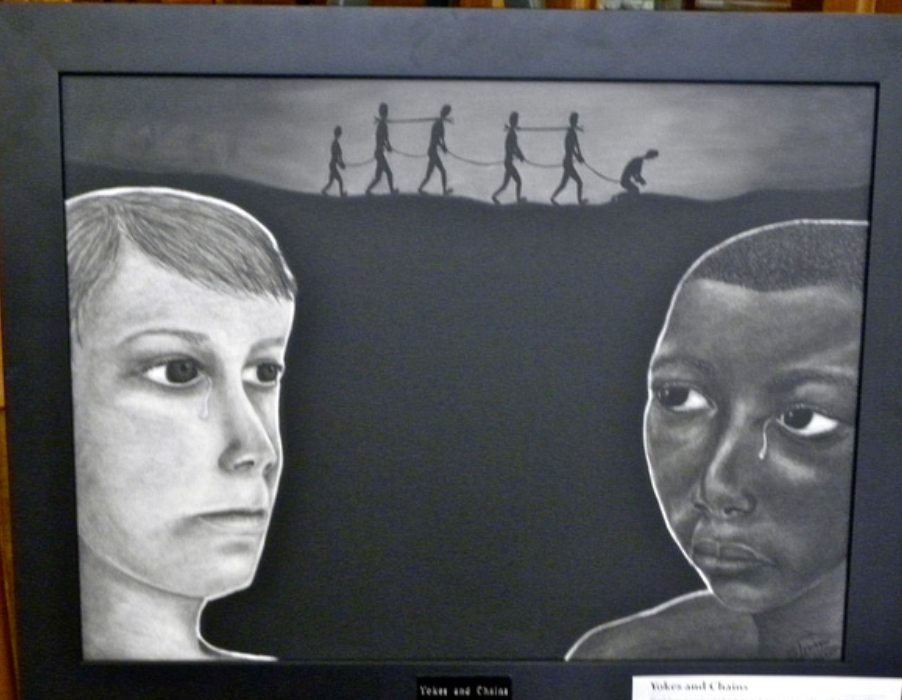 Yokes and Chains
The first piece, titled Yokes and Chains, sets the stage for both the pain of the past that continues to cause separation as well as a hope for abolition of that separation.  When considering the process of arriving at reconciliation the pain cannot be ignored but rather must be confronted. As the two children face each other they reflect on the reality and pain of slavery.  In this moment they bear witness to the fault, pain, consequence and responsibility of the transatlantic slave trade. In response, they express their pain through the shedding of tears. Both their tears reveal remorse for what transpired in the past as well as for the racism and segregation that persists even today.  Though they are separated by a darkness that is fueled by American society, their sorrow also reflects a hope for future change. By first gaining awareness of the truth rather than hiding from it, they choose to be a part of that change.
The Call
The second piece in the series is the foundation of the process.  True healing can only progress by facing the truth and acting upon it.  The Call presents this truth as the Word of God. The part of the text in focus reveals Colossians 3:11-14 which reminds us that we are called to be one, that in Christ there is no separation and that we must embrace unity through forgiveness, healing and love.  The silhouette brings to light the need to receive the truth as the two children from the first piece fall to their knees in surrender.
The Act
As she drew this picture, Stephanie describes, "My mind rushed back to another day in Rwanda where I saw a light emerge in the darkness through the joining of two men who expected to be lifelong enemies. A Tutsi man forgave the unforgivable of his Hutu neighbor and perpetrator from the 1994 Genocide. As I witnessed them walk hand-in-hand, I was convinced that I had never before seen a more beautiful sight. It was at this point that I acquired a renewed hope of flourishing unity between whites and blacks in America.  Similarly, the two children who were separated by darkness in the first piece are now joined here to create a light as they respond to their call. With fingers interlocked they move forward together determined to never be divided."
Beloved Community
The final piece brings the project and everyone together. The hands depicted in this piece are the hands of real people, including the artist's, who choose to join with people of all color to stand for racial reconciliation and live in multicultural and multigenerational community. Bordering the hands are the words "united" and "reconciled" in twelve different languages to emphasize the beauty of diversity. The intention of incorporating these languages is to allow anyone to feel as if that they are a part of this piece. The piece is titled Beloved Community in order to portray racial reconciliation as specifically centered around love that is fostered through a community. Additionally, it references the song "Beloved Community" developed by Dr. Martin Luther King Jr., which reflects the vision of all four pieces cumulatively. You are invited to join this beloved community with those building it around you.
---
Discussion Questions
Describe your initial thoughts or reactions to the scripture passage, quotes by Dr. Martin Luther King, Jr., or Stephanie's art pieces.

Where have you personally seen racial justice or inequity taking place? What most breaks your heart about this?

Where do you see people sharing in the prophetic mission of Jesus as described in Luke 4? Where is there evidence of the healing, liberating, redeeming power of God in your life or neighborhood? Share a story that comes to mind.

The Bible has continually been a source of inspiration for the Christian community to address conditions that are unjust or undermine human dignity. Where do you see an opportunity for the Church to come together for the cause of racial justice in this neighborhood or community?
---
Additional Resources:
-Read the Christian Churches Together response to Martin Luther King's Letter from a Birmingham Jail here (2013)
-Check out the Emmanuel Gospel Center's Race & Christian Community Initiative