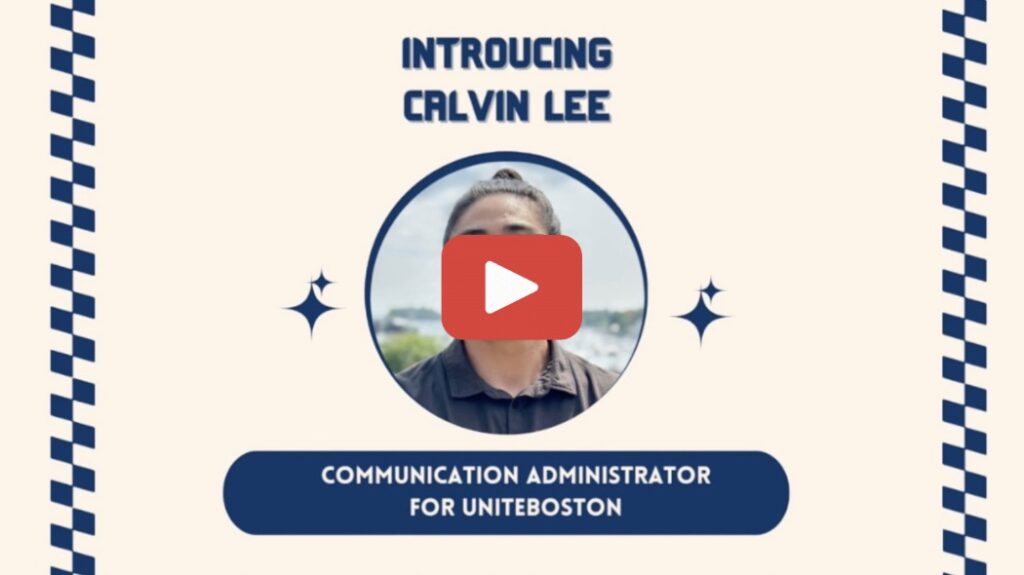 Hello Friends of UniteBoston!
My name is Calvin Lee, and I am excited to serve alongside Kelly and Devlin as the new UniteBoston Communications Administrator!
This is the kind of fast day I'm after:

to break the chains of injustice,

get rid of exploitation in the workplace,

free the oppressed,

cancel debts…

Your lives will begin to glow in the darkness,

your shadowed lives will be bathed in sunlight.

I will always show you where to go.

I'll give you a full life in the emptiest of places—

firm muscles, strong bones.

You'll be like a well-watered garden,

a gurgling spring that never runs dry.

You'll use the old rubble of past lives to build anew,

rebuild the foundations from out of your past.

You'll be known as those who can fix anything,

restore old ruins, rebuild and renovate,

make the community livable again.

-Isaiah 58:6-9, 9-12 (MSG)
Isaiah 58 has really come alive to me over the last few years, as I have been on an identity journey, centered around faith, race and justice.
I am a Jesus person.
I am a 2nd generation Korean-American cis male.
And I am journeying to better understand what both of those mean.
I am also an organizer and builder; and in 2020, I co-founded [GOSPEL], an initiative curating creative spaces to catalyze more for the American Christian Church.
I'm thrilled for the opportunity to continue building towards Christian unity and activation with UniteBoston! I believe that we, the Church, have everything we need today to play our part in God's move to "break the chains of injustice" (Isa.58:6). And I believe that our participation in God's liberation of ALL people is vital for the fulfillment of Jesus' prayer in John 17.
We live in a city with a painful history – much of which the Church has been complicit in and silent on. But in grace, we can freely lament that truth, and together reimagine the identity and purpose of the Church in our world today.
I'm grateful for UniteBoston's commitment to the hard but necessary work of breaking down the divisions that keep the Body apart, and am eager to serve alongside Kelly and Devlin to "make the community livable again" (Isa.58:12)!
I live in Fields Corner with my wife, Sunny, and dog, Boaz. We love walking "Bo" along the beach, playing pickleball, and watching movies together. A few of my favorite films include Minari, The Birth of a Nation (2016), and Malcolm X by Spike Lee!
Thank you for your warm welcome, and God bless!
"UB is in a season where we are examining the places that have divided the Church so we can better understand what God's call towards unity looks like. Calvin brings a passion for the Church to address areas of inequity and injustice, and cultivating a "radical togetherness," both of which are aligned closely with our missional priorities this year. I am excited to dream and strategize with Calvin on the team!"
– Rev. Kelly Fassett, UniteBoston Executive Director

"UniteBoston is growing, and we are growing in all the right ways. Adding Calvin to the team does more than allow us to do what we have always done better, but it fortifies us to pursue a future that is bigger and brighter. Calvin is another great partner in this work of discovering the Christian Unity that Jesus prayed for and over us. I am so excited about UB's future!"
– Rev. Devlin Scott, UniteBoston Managing Director
P.S. – Hiring Calvin as the communications administrator came alongside us promoting Rev. Devlin Scott as the Managing Director of UB! Read more about this here!