The violence at the capitol this week has resulted in calls for impeachment and many of President Trump's administration resigning. This situation reveals underlying cracks in our democracy, growing political tension, discrepancies in policing, and more. Many of those within the mob said, "Jesus is my savior and Trump is my president," and claimed to be acting out of God's will. This reveals syncretism of Christianity with nationalism and white supremacy with some of those who attended.
But what are Boston's Christian leaders saying? Here is a diverse snapshot of responses, taken from public posts on Facebook. We encourage everyone to share and "listen to what the Spirit is saying to the Church right now" (Rev. 2:29), that a collective voice towards gospel justice and truth might come forth.
(Note that the comments below do not necessarily represent the opinions of the congregations and organizations they are affiliated with. We strive to have a diverse collection of viewpoints; email Rev. Kelly kelly@uniteboston.com if there are other voices that should be added to the list.)
---
Dr. Jacqueline Rivers and Rev. Eugene Rivers are featured in this story covered by NBC Boston about how differently police responded to Trump supporters invading the Capitol compared with Black Lives Matter protests
---
Rev. Eugene Rivers on the impact of race in the capitol insurrection.
---
"Catching my breath this Saturday morning, reflecting, praying and processing on the aftermath at the Capitol. I'm feeling that tension of wanting to identify what is broken in hopes of its mending our country and at the same time not want to upset friends and loved ones. My feed is filled with the social media scuffles that follow these cultural moments and really, it saddens me because these are all people I care about. So I lament this and the following:
I lament that our current cultural climate leaves us incapable of experiencing a unifying moment. We often talk about how 9-11 was such a catastrophic event that unified the country in the midst of evil tragedy. I don't know anything that has compared to it since and that was two decades ago and I can't help but wonder in a polarized and over-politicized society, what can bring us unity?
I lament the division that is caused at the mention of Donald Trump's name. His words and actions incited the riot at the Capitol and the weeks of contesting the election had fueled Wednesday's events. From years of conversations, I can recognize that there are different types of Trump supporters ranging from those who think he is a legitimate solution to those that held their nose and reluctantly voted for him. There's so much to say here and that's the problem – I lament that we often cannot have a civil discourse that critiques the President.
I lament the fracturing of truth-telling, the current state of our media outlets, the gaslighting, and the conspiracy theories. It's more complicated than that but I lament that often when we look at the same event, the narratives, the facts, the details are very different. One can look at a picture of a white supremacist carrying a confederate flag with neo-nazi tattoos having infiltrated the Capitol building and another will read somewhere else that he is ANTIFA and will be convinced. This is incredible to me.
I lament the idolatry of Christian nationalism (not to be confused with the actual faith in and the teachings of Jesus) and Trumpism (not to be confused with traditional conservatism. While that can be its own unique idol, I find one more dangerous and more consequential than the other). These idols have mutated in becoming a dangerous and destructive force and it is cancerous to the church. Author Andy Crouch often says, "Every idol is an attempt to gain an edge on the world, to have some leverage over chaos." To paraphrase Andy, "idols tend to start small and then eventually they take over everything, even our future." I see and I lament the powerful work of idolatry throughout the Church and throughout our country.
I lament any ideology or "-ism" that Christians attach themselves to that then compromises their identity in Jesus and the gospel-centered practices and mission to love God, love their neighbor, pray for their adversary, and join in God's redemptive work in the midst of this broken world. To be sure, you can find many faithful people who are pursuing this good and needed work but I lament how the "-isms" and ideologies have seduced the church from Jesus' original intention and mission for his church.
This week I have been filled with lament and that these are "our times." But it's in the naming of these laments, I also believe that God can make a way through this. The God who sees it all, who knows the truth, who is not hindered by the slants, or agendas, or the falsehoods or the conspiracies or the "-isms", nor bound by anything else. The gratitude that I can find is that God is with us in "our times." That's as sermonic as I can get but make no mistake, it's one of the greatest truths we can be assured of.
I do believe that greater days are ahead, but lament asks us to pause and reflect on the pains we are seeing and experiencing. Often lament points us to prayer, which has a bad reputation these days. I'm not talking about the empty prayers, I'm talking about the powerful prayers that say if God can move the mountains, may the hearts be moved and may the Lord move mine first. This type of prayer can create transformative change. which often points us to repentance, to action, to beautiful moments of awakening that have the potential to usher in a glorious future. I join the many who pray for this and may others do so too."
---
"Our lamentations are stacked far too high! We lament the violent mob that stormed the capitol with signs bearing Jesus' Name. We lament the association of your most precious Name with terrorism and treachery. We lament the lies, the violence, the abuses of power, and the loss of life.
We lament the deep division in our hearts, our families, our nation, and your Church. We lament the pain, the fear, the festering wounds. Save us, O God!
We lament the adultery of your Church in her pursuit of other lovers
who promise power, safety, elevated status, freedom, and liberty. We lament as a Church complicit with the sins of our nation: white supremacy, racism, Christian nationalism, political idolatry, and all ideologies and actions that stand in opposition to your kingdom, your justice, and your peace. Forgive us, Lord. Uproot and burn away these sins among us and your people."
–Prayer of Lament written by Pastor Justin Ruddy and Kaitlin Ho Givens from Resurrection Church
---
"I have watched more TV news, on Fox News, CNN, and PBS, over the past 24 hours than ever in recent times. Gail and I have long resisted posting political opinions on Facebook—even as we have read strong, even vicious, attacks on what we hold to be true and decent. Last night, seeing flags for Jesus in the insurrection has called for response from his followers. Now, we, as Christian citizens, sense the need to contribute to what must follow an attack on our democracy. Our hope is for an extraordinary movement of political confession, forgiveness and openness of mind—toward a new era of unity and bipartisan compromise. Such must replace power politics, crowd instigation, and personal political ambition.
We, therefore, raise a critical question we think necessary for any evaluation of the President's instigation of an attack on our Capitol yesterday.
Was the President's call for an attack on our Congress, an aberration from his critical values, instincts, and methodology exhibited these past four years (that is, was it something quite different and separate from his attacks on a free press, on his own intelligent services and justice department)… or… was his instigation of the terrorism, and consequent defense of those who stormed the Capitol building, rather a culmination of whom he is, his core values, instincts and methodology—gradually accentuated throughout his presidency?
Because a house divided against itself cannot stand (Jesus and Abraham Lincoln), we Americans face a crossroads. Depending on how we respond to this critical question, we must be prepared to humble ourselves, beg new openness to facts/reality, forgive—and all in the spirit of love—whether Christian or human kindness. In this deep crisis the United States needs light in darkness, peace instead of hostility, truth rather than its alternatives, and above all, love instead of anger or apathy."
---
"Right now, people are confused about what it means to be a Christian. Political parties pander to faith communities – you hear the language of God on the lips of national leaders speaking to both sides with speeches that replace "Jesus" with "Old Glory." A "Jesus 2020" banner is hung during a siege to our capitol. This is the same syncretism that Paul fiercely renounces, the dangerous mixing of ideologies so your "faith" serves you and your will, not the will of God. This is not political rhetoric that Christians can gloss over. This is nationalistic idolatry, it is blasphemy, and it is evil.
Paul rightly distinguishes between himself and false teachers, just as we must distinguish between faithful Christainity and its perversion through Christian nationalism. The gospel of Jesus is always to be good news to the poor, to the broken-hearted, to those in chains. When it becomes the smug legitimization of injustice for the self-righteous, the proud and the privileged, that is not the gospel of Jesus Christ.
Holy Spirit, help us to rightly distinguish the true gospel when there are so many false gospels parading around. Grant us strength to follow when we can't see how you'll make this all right, when we're simply so exhausted from all the violence, trauma, death. Teach us to keep sowing seeds of righteousness, justice, and mercy, even though violent storms and preying animals threaten to take all the harvest and we are discouraged. Help us keep on in hope. Lift our weary heads in your tender grace. Amen.
-Kaitlin Ho Givens, Resurrection Church (East Boston)
---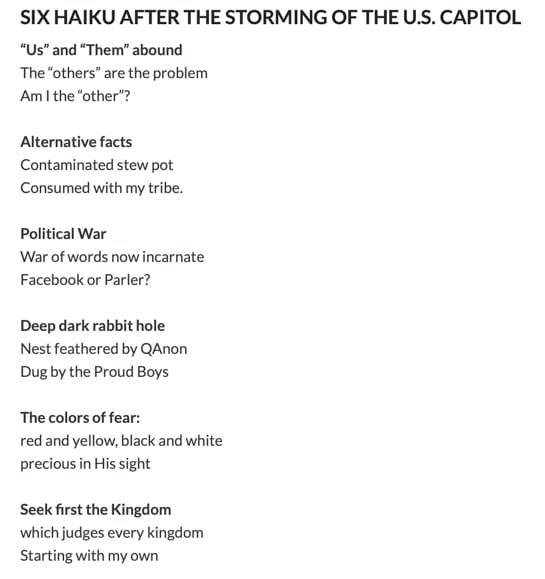 -Gregg Detweiler, founding director of the Intercultural Ministries program at Emmanuel Gospel Center (EGC) in Boston
---
"This is not a time to double down on our political point of view. It's a time to be still. It's a time to pray for peace to prevail and perhaps repent in light of our own complicities in all of this."
-Pastor Bryan Wilkerson in a video message to the Grace Chapel congregations
---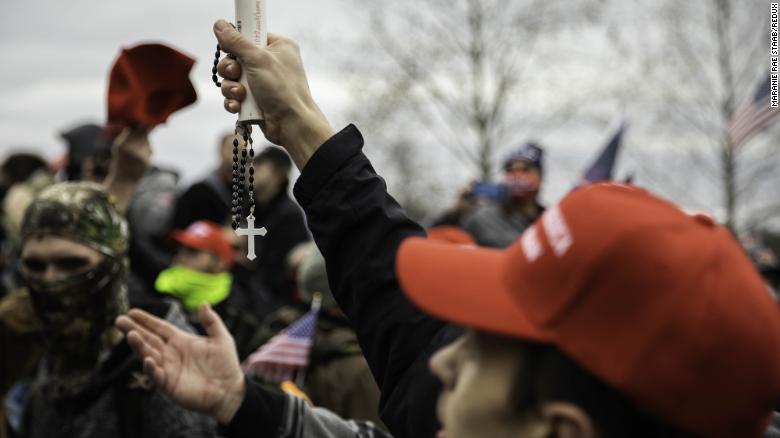 "I understand why so many people are upset about what happened in the Capitol last week, but I see this moment as a magnificent opportunity.
People keep talking past each other on social media because they have two starkly different stories about our nation, and are unable to see the alternative story. We are working from different "facts", which makes conversation impossible.
In the first story, we were founded as a Christian nation, and though imperfect, have always been a beacon of freedom, democracy and compassion around the world.
In the second we were founded by entitled, violent racists who stole land from Native Americans and humans from Africa, whom they forced into labor, raped and murdered. And at the core that is who we still are today.
In futility we shout at each other to accept one narrative or the other. But the truth is that neither narrative is complete without the other.
It's true that America was founded by people of Christian faith with virtuous aspirations about democracy and freedom. America has given more money than any other nation to address global poverty and disease. American history is replete with stories of people who were able to rise above the station of their birth, in contrast with many nations where official or unofficial caste systems have boundaries that are far harder to penetrate. America is the rare global empire that had the military power to take over the world by force, but chose not to do so.
It is also true that America's Christian founders were motivated by greed and racism that legitimized cruelty, violence, and theft against Native Americans first and then against Africans, who were officially declared to be less than human in our Constitution, as if that made it acceptable to treat them inhumanely.
That same greed and racism continue to shape our national policies to this day. For example, the line connecting violence against Native Americans and slaves to contemporary policing and criminal justice is impossible to deny, as is the line connecting pushing Native Americans off "our" land to more recent red-lining policies that keep Black and Brown Americans out of White neighborhoods. Globally our generosity is muddied by our complicity in propping up murderous dictators because they served our economic interests.
America's virtuous aspirations are real and beautiful, but have been compromised by our readiness to use violence to serve our greed since the very beginning.
Why do so many White Americans struggle to see this second narrative despite the overwhelming evidence? One reason, of course, is that we don't want to because it undermines the pleasant story we tell ourselves about how we earned the privileges we have, and that we, like our forefathers and foremothers, are uniquely virtuous among the nations.
The other reason, which does not get enough attention, is that White Americans have been indoctrinated from birth to believe the first narrative and deny the second. Cults and Jihadist recruitment strategies prove just how durable and effective such programming can be. Can we be expected to suddenly open our eyes to reality even while our deeply embedded deception continues to be reinforced in our news echo-chambers? Every subject in school since kindergarten was used to establish the superiority of White culture and American in particular, while assuring us that the vicious Native Americans and lazy African Americans somehow deserved their mistreatment. Indeed, weren't we kind to give them reservations and emancipation? We called it "education" and "patriotism", but does being a patriot require denying large parts of your own history?
I love my children deeply, but that love does not blind me to their flaws, it compels me to address them in ways that will allow them to flourish and bless others. That often includes confrontation and repentance, but good parenting includes affirming what is good, and correcting what is not – especially when those things harm others. Why is patriotism so different from parenting? Could not love for our country be exactly what compels us to honestly heal our nation rather than blindly defend it?
All along complacent White Americans should have been compelled by God's love to confess these sins, repent, and make restitution. Dr. King was counting on Northern White Chrstians to do this, but overestimated the strength of their piety to overcome their tolerance of a broken system that was serving them pretty well. Their love for those who are different was not as strong as their love for themselves.
All this brings me to what happened last week at the Capitol. Most Americans are outraged, as they should be. But I am hopeful.
The evil inherent in our system from the beginning has been too easy for White Americans to ignore because it was only threatening other people. But now it is threatening our very system of government and way of life. PERHAPS A PEOPLE WHO WERE NOT SUFFICIENTLY MOTIVATED BY LOVE WILL FINALLY BE ROUSED BY FEAR to do what love always required. It is shameful that it had to come to this, but finally in this moment love for self and love for others may be aligned.
Perhaps this will be a moment when we can finally embrace both parts of our story – our noble aspirations and many genuine virtues, as well as our persistent discrimination, violence, greed and sin – so that there can be confession, repentance, restitution and reconciliation.
That is my dream for our nation. That would make American great in a way it has never yet been, but has always aspired to be."
The Jesus saves signs among these terrorists are killing me. Please put those away. You are not a good witness for my God and my savior. For those who do not know him, Jesus does indeed save and he does love you. He loves all of us. Even these horrible, horrible humans. But he is not for this, this violence and chaos. This selfishness and greed, He is for love and he is for the vulnerable, the marginalized. I am tired of people using him to prop up this racist, minsogynst violent dangerous nonsense.
-Elizabeth Grady-Harper, Director of the Boston Faith and Justice Network
---
Stunned in disbelief at news of the violent siege on the US Capitol by rioters on January 6, it was easy to forget what else was happening that day: January 6 was also the Feast of the Epiphany.
Epiphany derives its name from the Greek word for "appearance" (epiphanias). On this day we celebrate that God appeared to us in the flesh in Jesus Christ. He showed up, as Pastor Alissa put it last Sunday. God's glory was unveiled for us in the face of a little child. And in him we see: God's nature turns out to be gentleness and mercy. That's an epiphany if there ever was one! And like the wise men of old, we are humbled by this visitation, brought to our knees in adoration.
So much for Bethlehem. But in DC a different sort of epiphany took place that day. Something else was revealed and laid bare for all to see. I thought it was interesting that the first reaction so many of us had was something like: "This is not us!" or "This is not American!" I get that response, I really do. What we saw there isn't who we aspire to be. Racist thugs undermining democracy, motivated by vain conspiracies. We want to be better than that as a country.
But are we?
Unfortunately it is not quite accurate to say that "This is not us!" Undoubtedly this is often precisely who we are, if by "us" we mean our country in all its complexity and mixed success at realizing its own high ideals. A country that gave rise to jazz, the light bulb, and the New Deal, that landed on the moon and defeated Hitler — but also a country that protected segregation, encouraged red lining, has started illegal and devastating wars for imperial motives, and in which the rich keep getting richer and the poor poorer. Both of these sides of our history and heritage are "us".
Much as we would want to, we cannot fully disassociate ourselves from what we saw on Epiphany Day. On some level, all of us who are part of this nation have to own this ugly side of "us". No matter how opposed to it we may be, it is happening before our eyes, in our time, in our country, with our neighbors.
Not to mention that we as Christians are exposed b
y this incident in a particular way. Did you see the Bibles? The Jesus signs? Did you hear the confident proclamations of belief in God? The appeal to Christian values in that crowd? Hard as it is for me to say this, but the body of Christ was present there. And we as Christians were being represented by people who claimed the mantle of our Lord's Gospel as inspiration for their actions.
We might balk at this idea and claim that surely these cannot be true Christians, that their professed faith is a falsification of the Gospel of grace and love. Sure it is. But we don't get to disentangle ourselves from this quite so easily. When Christians vandalize, harm, incite, or persecute, we have a special responsibility for the sins of our siblings. We cannot deny the overt Christianity of these people anymore than we can absolve the church of the sins of the Crusades. It would be convenient to hide out in a safer and holier corner of the Christian family and shout, "We are not like them! We're the REAL Christians!" But we are not called as Christians to keep our breeches clean on the side lines. We are called to reckon with the mess of the world, especially if we are implicated in it.
What I'm trying to say is this: On the feast of the Epiphany we celebrate God as the great Revealer — God reveals grace, mercy, and truth in Jesus Christ. But God's act of revealing is twofold. The Holy Spirit not only reveals God's glory and grace to us. The Holy Spirit also reveals us and our need. We need that because we're pretty good at ignoring it. Being uncovered and exposed by the Spirit in this way can be a difficult experience, for individuals and for nations and for churches. But it is a necessary precondition for any kind of healing, growth, or repentance.
Ultimately, the sting of truth is a work of grace. When all is said and done, it is better for such evil to come to light than for it to fester further in obscurity. The epiphany — the broadcasting and revealing — not only of God's glory but also of our collective and individual sin — is a work of God, a step on the journey toward the renewed world our Savior is forming out of the jagged and twisted mess of this one. And I thank God, not that this happened — but that it happened in full view of the whole world.
Because we know that what was on display on Wednesday was no isolated incident. These tendencies and ideologies and actions have been around for a while. And not only these past four years, either. They go WAY back to the foundation of our country. We've just gotten pretty good at sweeping them under the rug.
But only when sins are out in the open, do we get to confess and own them. And when we own them, we get to lament them. And when we lament them, we can renounce them. And then we get to start working on repairing them. Let this new year bring honest confession and the renewal of our common life. Amen.
– Pastor Robin Lutjohann, Faith Lutheran Church
"The beginning of the Prayer of St. Francis is familiar to most of us: "Lord, make me an instrument of your peace." And it is peace we need in our nation today, united by the common good of our people. The violence witnessed in our nation's capital yesterday serves only to inflame our divisions and pit citizen against citizen at a time we need to be united. We reject all forms of violence, including the acts of those who stormed our Capitol. We pray for those who lost their lives and for their loved ones and for the injured.We live in a divided nation and the challenges our nation faces are significant.
Our recovery from yesterday's assault will require the best talents of our civic leaders. Very soon President-elect Biden and Vice President-elect Harris will be sworn in to lead our country. In the spirit of what makes America a beacon of light and democracy for the entire world we must set aside our divisions and together go about the work of helping to lift people out of poverty, healing the sick, welcoming the immigrant and address systemic racism, and many other tasks.
Let us heed the words of St. Francis' simple prayer: "where there is hatred, let me sow love; where there is injury, pardon; where there is doubt, faith; where there is despair, hope; where there is darkness, light; where there is sadness, joy."
-Cardinal Sean O'Malley
---
"Lies Have Serious Consequences"
Yesterday Americans and the world watched with horror as a mob, incited by President Donald J. Trump, stormed the Capitol of the United States with Confederate flags and Donald Trump banners. In addition to disrupting the lawful certification of this year's Presidential election, the mob action led to the death of four people (one woman shot by the Capitol Police and 3 who died from medical emergencies suffered during the riot, according to current news reports) and the injury of a number of law enforcement officers. Despite this, the President said on video to this violent mob "We love you. You're very special people." And he said this after repeating the lies associated with his assertion that the election was stolen from him.
We call this assertion a lie, not because Democrats say it is untruthful, but because the President's own appointees (Attorney General William Barr and Director of the Cybersecurity and Infrastructure Security Agency, Christopher C. Krebs), Republican governors and election officials across the nation, and Republican-appointed judges (including Supreme Court justices appointed by this President) have said that his statements are without evidence, at best, and untruthful, at worst. As we learned tragically yesterday, lies have serious consequences.
In light of all that's happened we are asking:
1. That we offer our prayers and support to the four families that have lost loved ones in this wholly tragic and entirely avoidable assault on democracy and the rule of law.
2. That the President be held fully accountable for his part in inciting a riot/insurrection that led to the loss of life, the destruction of property, and the disruption of our democratic process.
3. That any and all members of the violent mob be identified, arrested and prosecuted.
4. That pastors and laypeople—Black, Latinx, and especially white evangelicals—who have echoed or remained silent about this President's current or past lies and incitements, examine their own complicity and repent.
5. That Trump supporters, and especially Republican politicians who have supported or failed to speak out against this President's lies and incitements, examine their complicity and be held accountable by their constituents.
6. That the law enforcement response to yesterday's mob violence be investigated to see why it appears that the level of preparedness for and response to this mob action were quite different from what happened during Black Lives Matter marches in Washington, DC and across the nation.
7. That we fast and pray for a country so deeply divided that it can't even unite to fight a viral pandemic.
Ours is a nation born with ideals of liberty and equality, even as its history has also been a tale of slavery, segregation, and continuing inequality and inequity. Yesterday's mob action was another sordid episode in that history. In the wake of that episode, perhaps the hardest question for all of us to address is, "What kind of nation are we, if this is the kind of leadership we've chosen and supported?" We may not know the full answer to that question for some time, but this much we painfully learned yet again yesterday—lies have serious consequences.
-Pastor Ray and Gloria Hammond, Bethel AME Church
---
"The events in the news continue to call to our consciousness the division, hatred, and brokenness in our nation. If they've left you shaken, angry, or hurt, we are praying for you and want to hear how we can love you right now. Our just Heavenly Father, who promises justice and extends grace, is a refuge to us in times of turmoil. Psalm 46 says,"God is our refuge and strength, A very present help in trouble. Therefore we will not fear, Even though the earth be removed, And though the mountains be carried into the midst of the sea; Though its waters roar and be troubled, Though the mountains shake with its swelling."
---
MY HEART IS BROKEN TODAY
In January 2009, I was living and working in Sudan. To extend hospitality to Sudanese and other Africans — to make friends — my family hosted a party to celebrate the improbable, historic election of Barack Obama. Our new friends watched in jaw-dropped amazement, the presidential inauguration on live TV — Yo-Yo Ma playing cello (if memory serves), Aretha Franklin singing "My County, 'Tis of Thee"… But their greatest amazement, was not at the beautiful colors and glitz — but at the simple sight of outgoing President Bush shaking hands and smiling at the incoming President Obama…
I've never been a big flag-waver. Some are "proud" to be an American; I'm simply grateful, humbled that God chose to birth me here, sometimes scared of the awesome responsibility. But in that moment in 2009 — as my African friends laughed in protest, not comprehending what their own eyes were seeing — I couldn't have felt more proud. "No way! This is CRAZY!" they laughed, stunned with joy and disbelief. "How can this be happening?! Haha! No, No! THIS can NEVER happen in Sudan! Haha! Seriously, how is that man shaking the hand of the other man — the Black man! — who has taken his position?!!"
They knew the men were "Bush" and "Obama" — that wasn't the point. The peaceful, orderly, and even joyous transition of government — they had literally never seen anything like it. It had never happened in their lifetime, so it was absurd to them. (The developing world doesn't typically pay a lot of attention to American politics.)
That was MY country on the TV — still racist, chauvinist, materialist, murderously colonialist, tacky, etc. — that was my country putting forth its Dream, its Aspiration, not so much as a model for the world, but as a beacon to Possibility, with music, and community, etc.
So now today, watching American citizens take up arms in this Capitol building… I just can't believe it. What kind of American leader doesn't stand up immediately to tell his followers No? And what kind of people would follow, or even countenance, such a leader? And "How long O God, will the wicked prosper?"
(For those still sleeping in the back: Imagine a sea of Black people [EDIT: or Brown, or Yellow, or Red people] swarming a Capitol building, some presumably armed — do you have any doubt what would happen? Do you still deny white privilege?)
---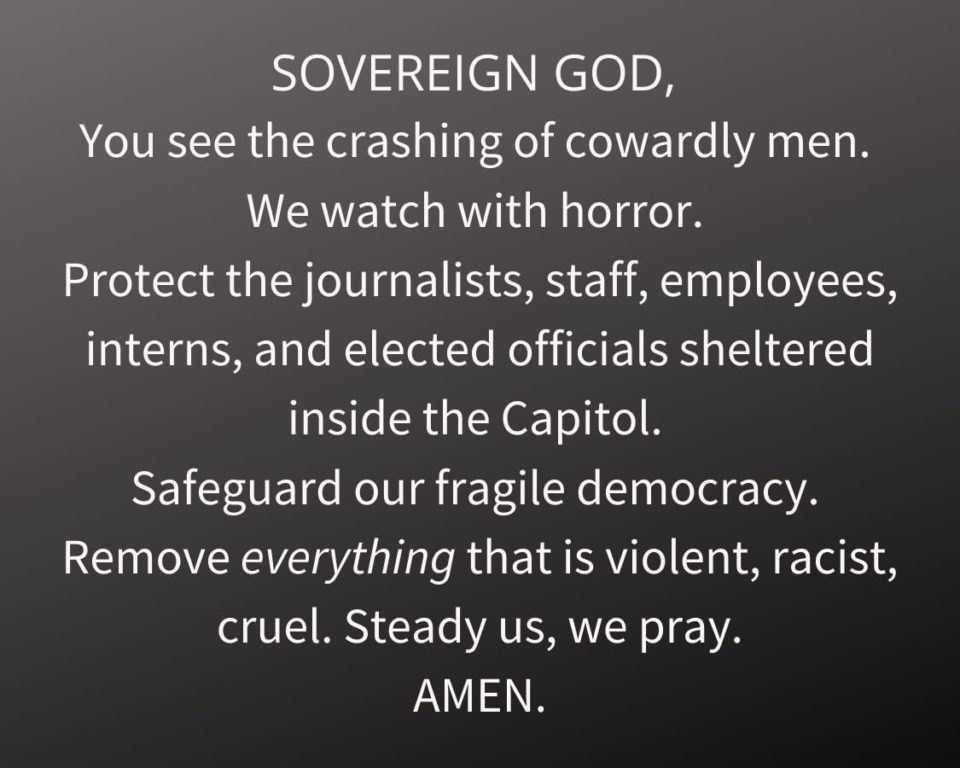 ---
"Wednesday's violence in our Capitol took place on January 6th. In some parts of the Christian world, that is Christmas. In others, it is Three Kings Day. And in many, it is called Epiphany, the day of God's appearing. All of this Christmas season celebration that traditionally culminates on this day is about revelation. God reveals the depth of God's love and solidarity with humanity by becoming one of us. The Magi reveal the deep significance of Jesus by worshipping him as a king. Among the other things that happened on Wednesday is that more of the troubled and violent fabric of our nation and ourselves has been revealed. We are a violent nation. We are a racist nation. We are a troubled nation. We aren't only these things, of course. We are more than that. Yet we are still these things. The worst aspects of this country's founding sins of racism and violence still trouble us deeply.
All of these troubles are of course so large, much bigger than any one person or any one church. If you need to take a break from the news or just rest or hydrate or take a walk or call a friend, do all those things. Additionally, let's join together in praying for a peaceful transition of power this month in our nation. Let's also pray for this country, whether we are citizens or residents or just passing through. America still needs deep movements of repentance, reconciliation, and healing. And let's redouble our efforts locally to form a community of love and justice and renewal, a church that bears witness to good news of the love of Jesus, the gift of community, and the joy of living for all people. Let us be and grow the Beloved Community among us, in hopes and prayers that God will empower much larger efforts to do the same across this nation and world."
-Pastor Steve Watson, in a statement to his congregation Reservoir Church
---
Woe to you
Red, white, and blue
Gallows say it plain
In Trump and Jesus' name?
I retch
Oh Lord, how long?
A moanful song
Blood-soaked soil retching too
And sandstone
In the memory
Whose sweat in quarry
Dripped and mingled
To build
This defenseless Hill
Sand and soil,
Grievance airers,
Witness bearers
The wind, a victim too
In this red, white, and blue
Obliging law of nature,
Complicit, in shame
To wave such bitter flags
She'll carry the song,
Make her position known
And me
Woe, if I don't speak
Moment of silence,
Yes
Though soulful blues
Emerge
A choir of voices
Long ago voices,
And yesterday's
And tomorrow's
Singing funeral dirge
-Lauren Paz Becker, Associate Dean for Spiritual Formation at Gordon College and member of
West Church
in Haverhill, MA
---
Today, I'm praying for:
– Safety for all those at the Capitol—law enforcement, gov workers, and others
– Comfort for family and friends of those killed and healing for any wounded
– Orderly transition of power that will be peaceful from now on
But I'm also praying for:
– The dark forces of white nationalism, including white Christian nationalism, that inspired this occupation to be exposed, defeated, and repented of.
– Racism to be exposed, defeated, and repented of. If the people storming the Capitol were black, would they have gotten inside so easily? The disparity between how white protestors were treated here and black protesters were treated at BLM protests this summer reveals the continuing racism in this country.
– For me and other white Christians to be more courageous in speaking out against white (Christian) nationalism and racism, and to have humility to repent for our complicity, including our silence.
Lord, in your mercy,
hear our prayer.
---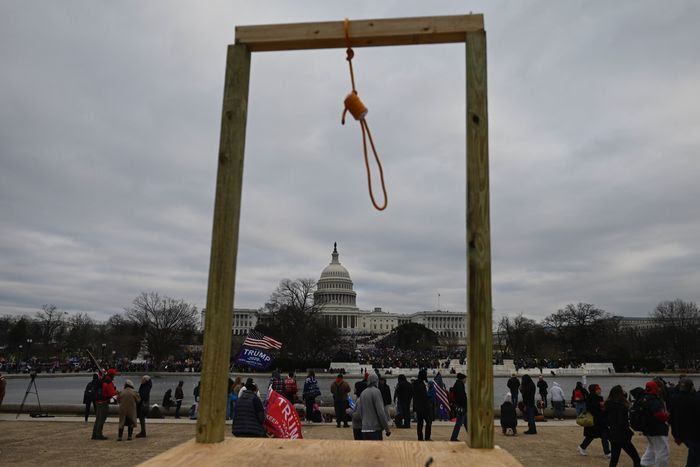 "Allegedly, today's "Save America March" was all about election integrity. But did you notice the confederate flags, supremacist symbols, and even the full-on gallows?!
Back when I was aiming for colorblind, I might've struggled to square these racist symbols with the context. But what they make transparent is that today's riot is meaningfully (if not exclusively) about race. It's the last, grasping protest of a white fraternity that senses its power is slipping away.
Earlier today, President-elect Joe Biden said, today's riot is not a true reflection of America and does "not represent who we are." Aspirationally, I can appreciate Biden's point, but historically he's wrong.
It's always been this way. When the abolitionist movement threatened to undercut the status quo, Southern States started a war to defend their power to treat Africans as chattel. When over 1500 blacks were elected to public office during reconstruction, whites used fraud, poll taxes, and the lynching tree to maintain their racial dominance. When blacks began to develop status and wealth in 19th century Wilmington, a white mob murdered hundreds of black residents and a coup deposed the duly elected government to establish a segregationist regime. When Jim Crow segregation failed to adequately depress black residents of 20th century Tulsa, white mobs murdered hundreds and burned blocks of real estate to the ground. When the United States elected it's first black President, Donald Trump launched his political career with the birther conspiracy, claiming our first African-American president was not a genuine American. Over the past four years we've heard him talk about Mexicans being rapists, about "shithole countries," tacitly endorse white supremacist groups ("very fine people on both sides"), telling an African-American congresswoman to "go back and help fix the totally broken and crime infested places from which they came," and just this week demanding officials cow to him to fraudulently "find" ballots and help him steal the election. On the cusp of this racist regime being finally deposed (and a new administration featuring a black women), it's hardly surprising that this is what whiteness produces.
Call me naive, but I'm still hopeful for America. Earlier today, newly elected Senator Raphael Warnock said, "Because this is America, the 82-year-old hands that used to pick somebody else's cotton went to the polls and picked her youngest son to be a United States senator." America is a paradox; perhaps it's just when the moral arc is bending toward justice that evil rears its ugly head.
Whatever our politics, the quest for a just and equitable union demands we come together to repudiate this damnable display of racism… Despite some embarrassing crosses and Jesus banners present at the Capitol, what we're seeing in Washington today (and most days) is pretty much the polar opposite of everything the guy who sacrificed his life to make peace with his enemies was all about."
---
And a classic Christian author, Henri Nouwen:
One of the greatest ironies of the history of Christianity is that its leaders constantly gave in to the temptation of power—political power, military power, economic power, or moral and spiritual power—even though they continued to speak in the name of Jesus, who did not cling to his divine power but emptied himself and became as we are [Philippians 2:5-11].
The temptation to consider power an apt instrument for the proclamation of the Gospel is the greatest of all. We keep hearing from others, as well as saying to ourselves, that having power—provided it is used in the service of God and your fellow human beings—is a good thing. With this rationalization, crusades took place; inquisitions were organized; Indians were enslaved; positions of great influence were desired; episcopal palaces, splendid cathedrals, and opulent seminaries were built; and much moral manipulation of conscience was engaged in. Every time we see a major crisis in the history of the Church such as the Great Schism of the eleventh century, the Reformation of the sixteenth century, or the immense secularization of the twentieth century, we always see that a major cause of rupture is the power exercised by those who claim to be followers of the poor and powerless Jesus.
What makes the temptation of power so seemingly irresistible? Maybe it is that power offers an easy substitute for the hard task of love. It seems easier to be God than to love God, easier to control people than to love people, easier to won life than to love life. Jesus asks, "Do you love me?" We ask, "Can we sit at your right hand and your left hand in your Kingdom?" (Matthew 20:21). Ever since the snake said, "The day you eat of this tree your eyes will be open and you will be like gods, knowing good from evil" (Genesis 3:5), we have been tempted to replace love with power. Jesus lived that temptation in the most agonizing way from the desert to the cross.
The long painful history of the Church is the history of people ever and again tempted to choose power over love, control over the cross, being a leader over being led. Those who resisted this temptation to the end and thereby give us hope are the true saints. One thing is clear to me: the temptation of power is greatest when intimacy is a threat. Much Christian leadership is exercised by people who do not know how to develop healthy, intimate relationships and have opted for power and control instead. Many Christian empire-builders have been people unable to give and receive love.
Henri Nouwen, In the Name of Jesus, pages 57-60