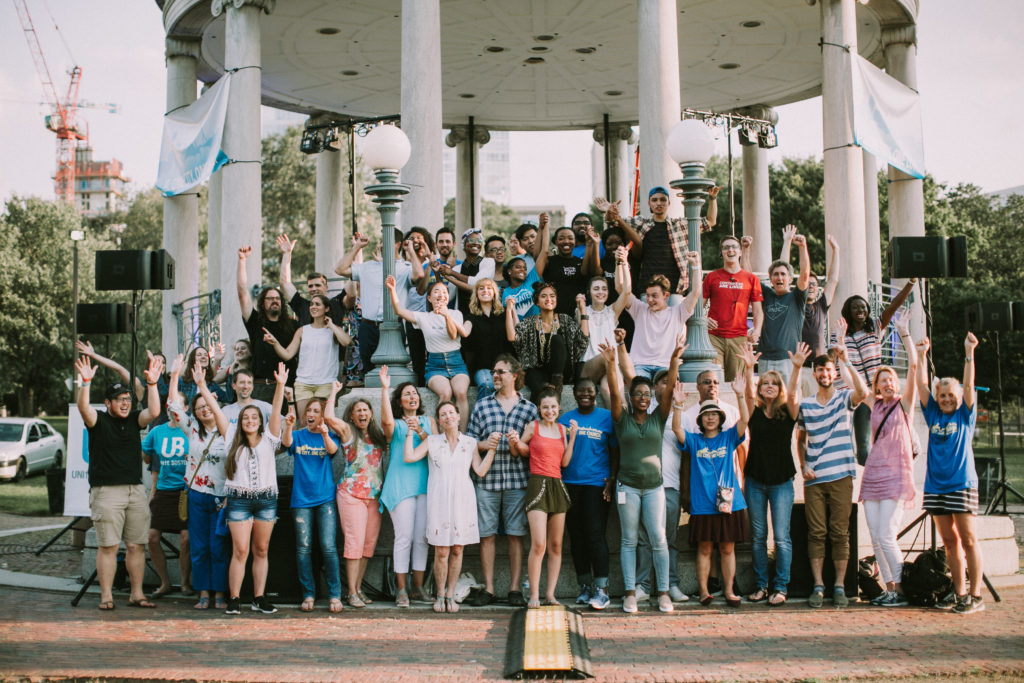 By Kelly Fassett, UniteBoston Team Leader
When I agreed to Chloe Gaydos' idea last summer to organize a worship night in the Boston Common, we had no idea what God would do. As she began recruiting for the worship team, we were amazed to see the interest and involvement of Christians from a variety of communities. The attendance at this year's worship night was over 1,000, which was double or triple the amount from last year, including Christians of all denominations and ethnic backgrounds and many people passing by who were in the park that evening.
The worship team did an incredible job leading us in a variety of types of music, including gospel, Christian rap, Messianic Jewish, charismatic, and traditional hymns. I helped to coordinate the sponsored tables of thirteen local churches and organizations that surrounded the perimeter of the premises. There was also great fellowship – a family reunion of sorts – and even a woman who painted canvases throughout the evening and a spontaneous dance party! A sense of joy filled my heart as I saw all these groups come together in worship as we sought to witness to the love found in Christ.  Check out the photo gallery here!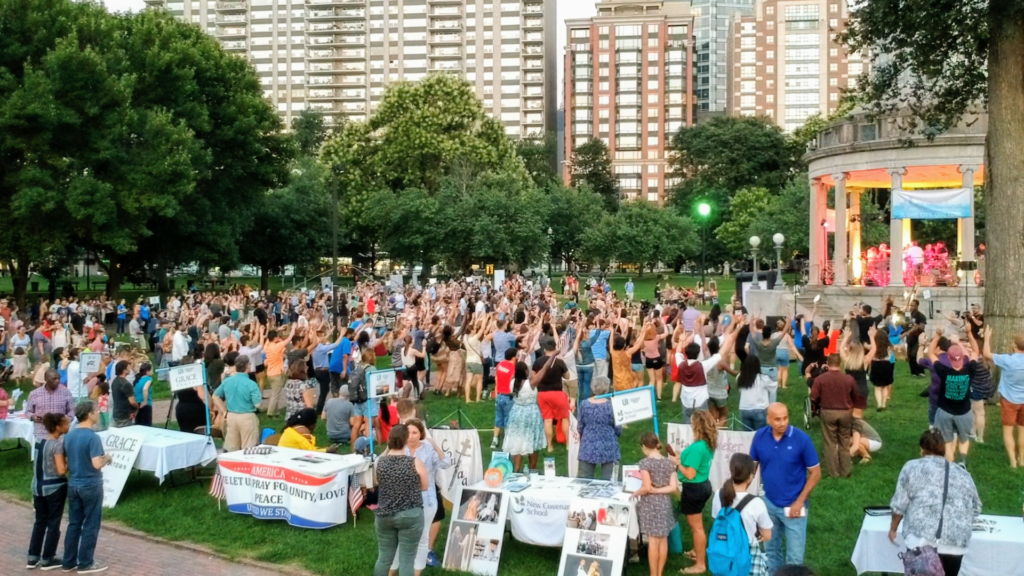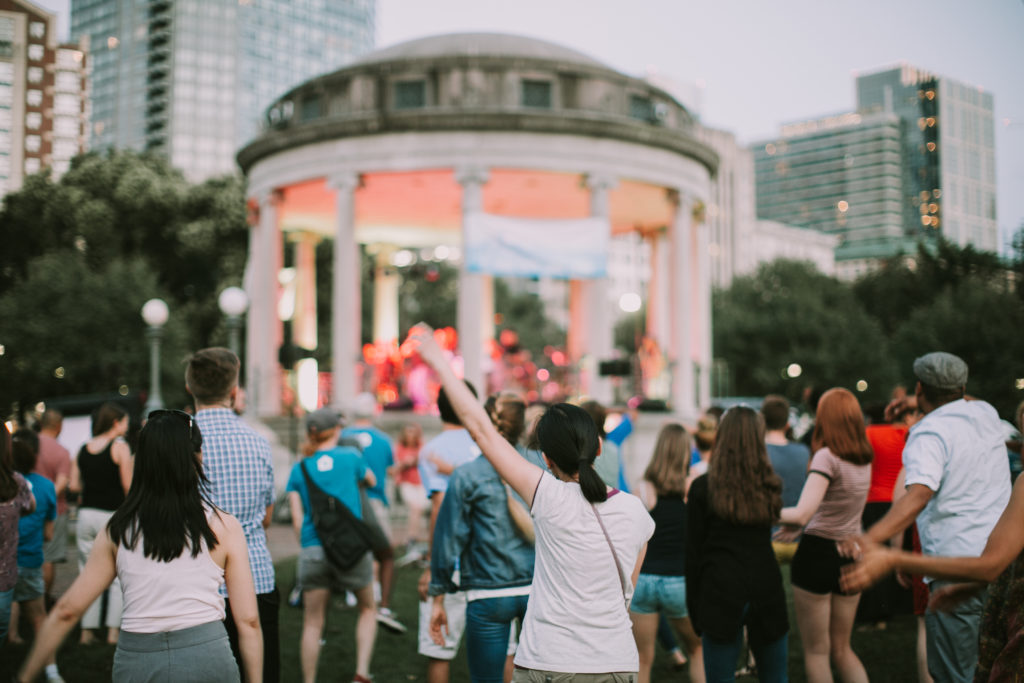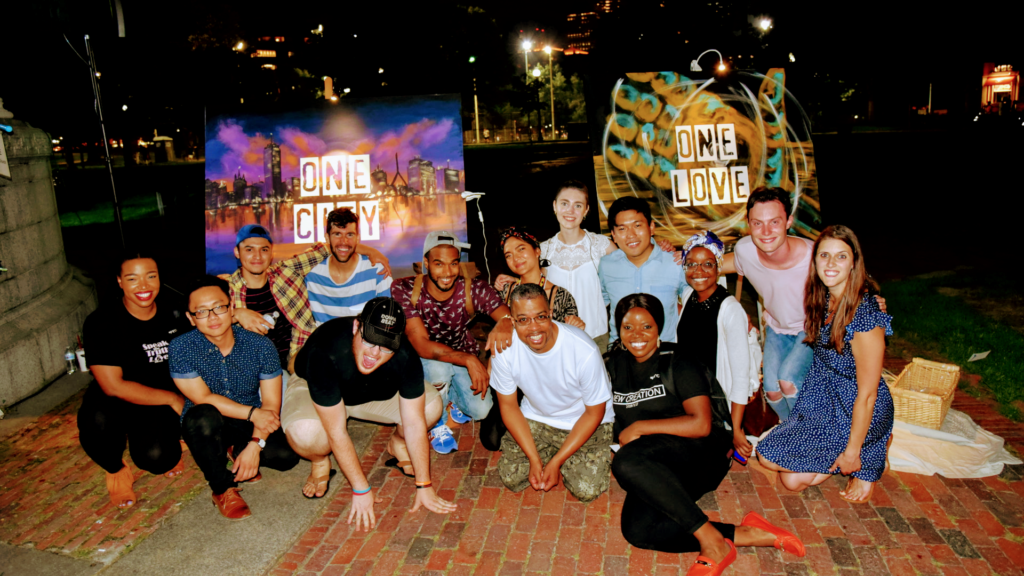 One of the greatest joys for me as the Team Leader of UniteBoston is seeing more and more people running with the vision of Christian unity. Unlike other UB events where I've been the main person to make everything happen, at the very heart of this event was unity: an amazing team of volunteers, sound technicians, and musicians to plan and implement all of the logistics.  Thanks to the UB community, the event on Facebook was shared 228 times, and over 50,100 people viewed the event (yes, that's 50 thousand people! Not a typo!)
Personal Stories
"You'd be hard pressed to find as diverse a crowd of believers worshiping together in Spirit and Truth as were gathered that night. Some have moved to Boston because they believe the Holy Spirit is not at work. Strange how those people never attend events where the fullness of the Church is being expressed in the diversity of God's people!"
-Rev. David Wright, Black Ministerial Alliance
"As we gathered on the Boston Common, our 'common neighborhood backyard,' the vibrancy, joy, diversity of our common faith came alive. It was truly incarnational, if one had to use a theological term. Although much of the style of the event was different from my Catholic style, I felt welcomed and engaged. Christ is our Center, our Life. Thank you so much."
-Fr. Michael McGarry, The Paulist Center
"The August 19 evening worship on Boston Common was as filled with God's Spirit perhaps as the Common has been on a number of historic moments over many years, such as the First Great Awakening there in 1740 or the Billy Graham meetings there in 1950.  We pray God is increasingly filling Boston with His Spirit now in 2018."
-Ralph Kee, Emmanuel Gospel Center Church Planting Collaborative
Continue the Momentum Towards Unity 
Ephesians 4:16 says that the body of Christ is joined and held together by every supporting ligament. This is Christian unity: Every person has a part to play to build up the body. The participation of every community matters. You have a unique, valuable contribution, by which others can learn and receive from.
Here are some things you can do to continue the momentum towards Christian unity after the worship night:
1. Build relationships with other Christians 
While large events are great, the power of Christian unity comes from relationships. It is relationships across our varied church traditions and backgrounds which empower inter-church collaboration. Thus, one of the greatest things you can do is to set up a time to meet with someone from a different background than you – perhaps ethnically, denominationally, or socioeconomically. To do this, you can visit a worship service from another church in your neighborhood, asking, "What can this form of Christian worship teach me about God?" It's often as we step outside our comfort zone that our false understandings are revealed and we discover the manifold wisdom of God present within the church (Eph 3:10).
2. Join a UniteBoston Neighborhood Dinner
UniteBoston has a team of nine dinner coordinators that are coordinating regular gatherings for prayer and fellowship within neighborhood communities.  The goal for the dinners is to build relationships and to let our relationships inform our shared mission of revealing Jesus' love within our communities. We gather to hear our personal stories of faith in Christ and to answer two questions: "What is God already doing in our community?" and "What can we together to better demonstrate the love of Christ?"
You can sign up for a dinner in your neighborhood by clicking here. Our neighborhood dinner coordinators are also happy to sit down with you and grab a cup of coffee to learn how we can be supporting you and what God is doing in your midst. Please contact us – We'd love to hear from you!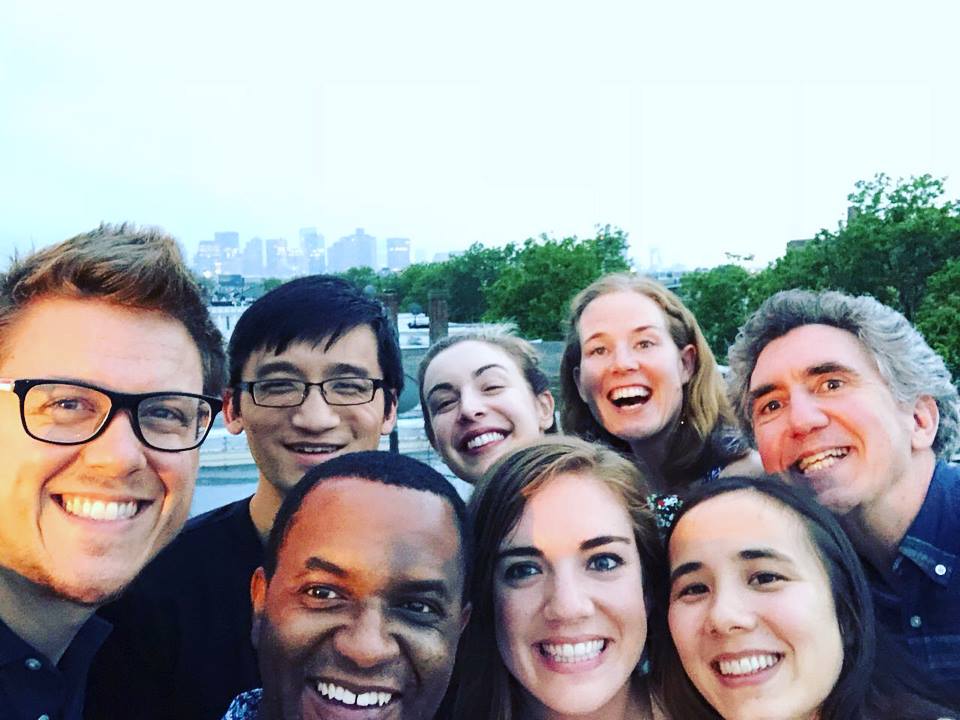 3. Share about UniteBoston on Facebook or Instagram
This year, we increased our marketing strategy and have discovered the power of social media. We encourage you to take one of our photos and share it on Facebook (@uniteboston10) or Instagram (Uniteboston) – or simply email your friends and encourage them to get involved with UB/sign up for our weekly newsletter!
"Organizations have programs. People have friends. Friends trump programs every time…The world has been shouting over the noise of our programs that it doesn't need more presidents or organizations, what it needs is more friends." – Bob Goff in Love Does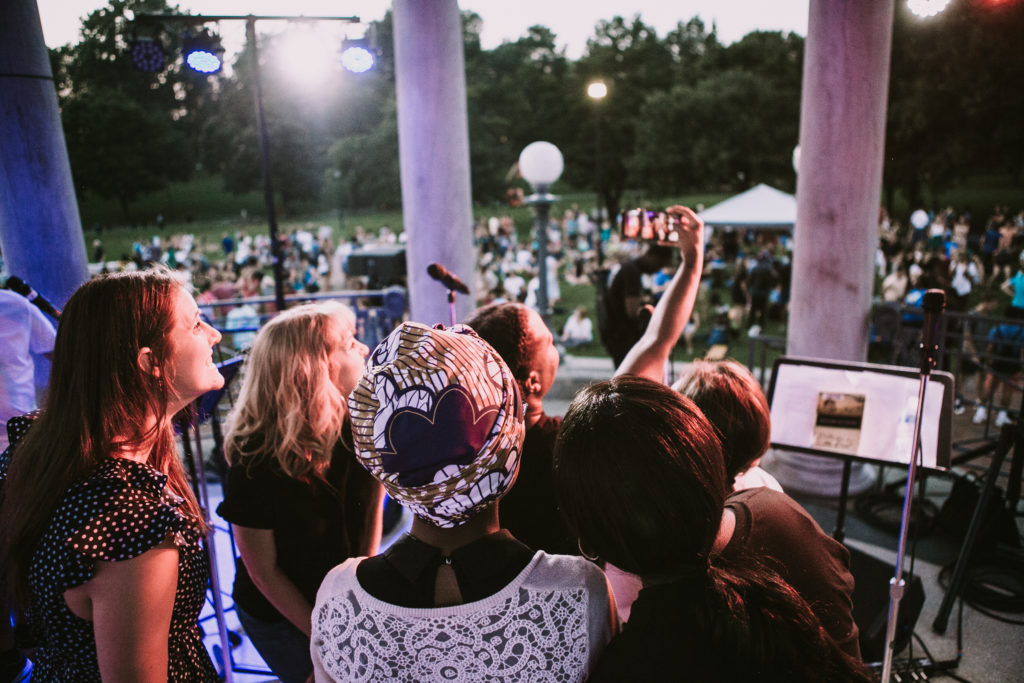 4. Submit an event from your church/ministry to UniteBoston's weekly newsletter
UniteBoston has a large infrastructure for promotion and advertising. Our website is viewed by 2,000+ people monthly and our weekly newsletter goes out to over 3,000 Christians in the Greater Boston area, so it's a great way to get the word out about your event and increase visibility. Many people attest that posting on UB helped them to connect with new people and increased their event size!
There are two options for posting:
-Free: Posted on the UniteBoston.com website
-$30/week: Featured on our weekly e-newsletter
The current UniteBoston team is a tight-knit group of people that is committed to one another and to joining God in His work in this city. If you believe in Christian unity and want to be a part of a community that is working to make the unity we share in Christ visible, please prayerfully consider joining our team!
Right now, we have volunteer opportunities available in finance, journalism, and neighborhood dinner coordination.
Photo Contest Winners!
And here are our photo winners from our photo contest! Each of the three people below will receive a gift card to Neighborhoods Cafe, which is a cafe run by David and Betsy Hill from CityChurch. Neighborhoods is a local coffee shop in the Fenway/Kenmore neighborhood that has organic fair trade direct trade coffee and crepes. Thank you Betsy Hill for donating the gift cards to UniteBoston!