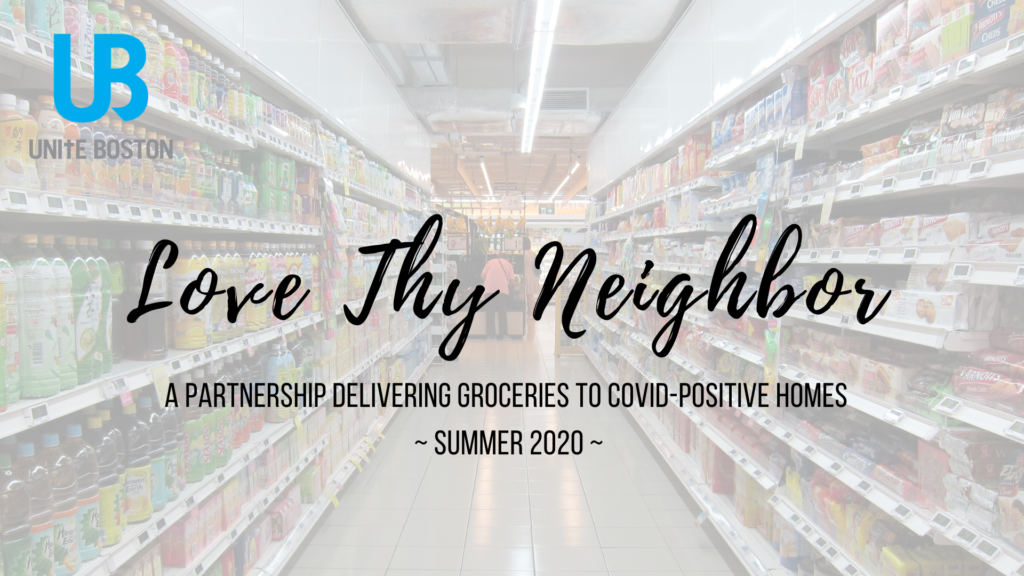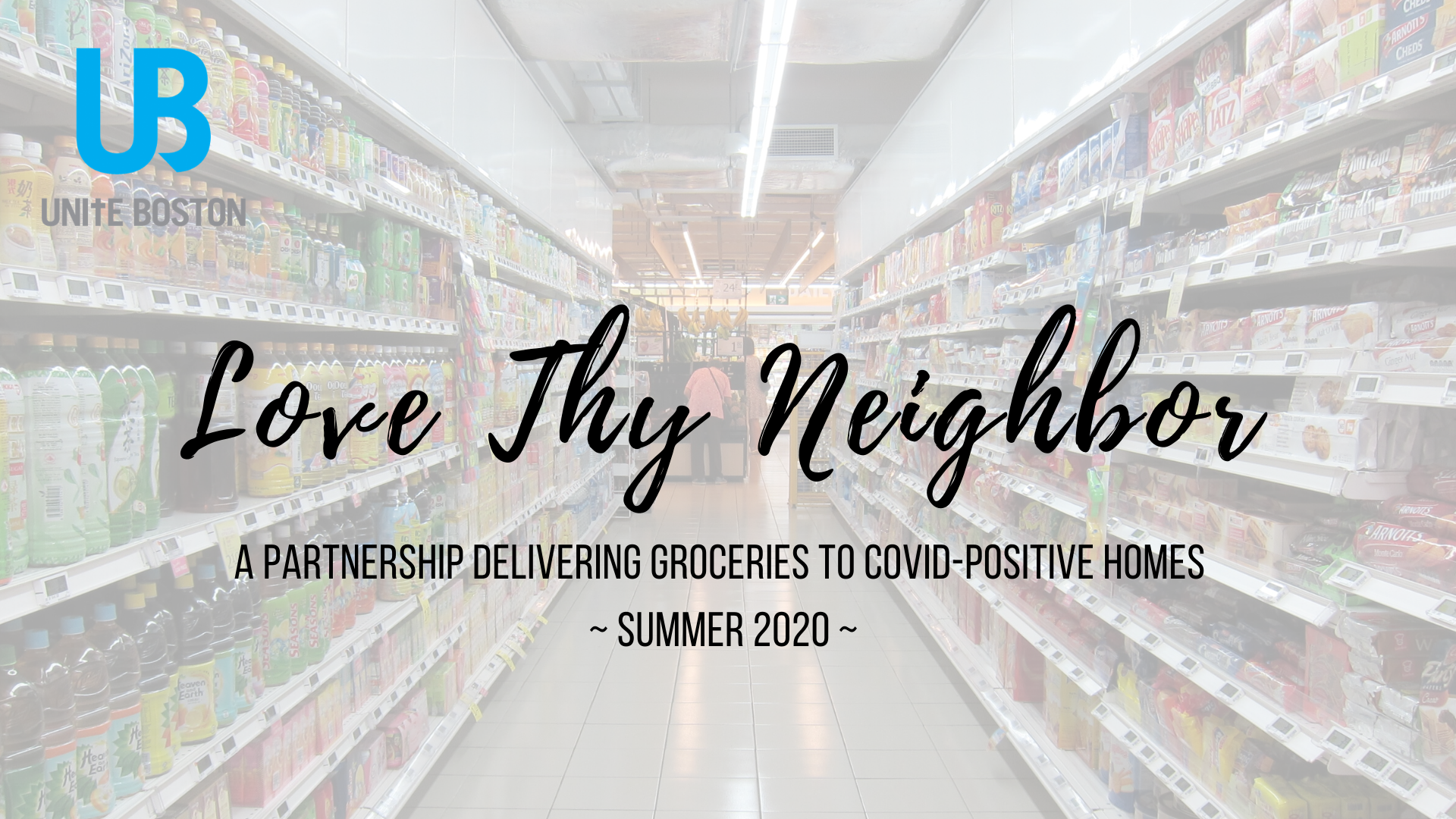 UniteBoston has launched a program in conjunction with Park Street Church in which Christians throughout the Greater Boston area can assist families with basic food needs. This program is focused on families and households who have someone that tested positive for COVID-19, by providing them with groceries for their time in quarantine. Working in partnership with Massachusetts COVID-19 Community Tracing Collaborative (CTC) at the Department of Public Health, the program puts each volunteer in contact with a particular family within the person's designated zip code. The volunteers then have 48 hours to purchase and deliver groceries to their assigned families. Our goal is to serve 20 people per day, or 100 per week! If you're interested in volunteering, click here for the volunteer sign up form.
Here are a few stories of Christians who are selflessly giving their time and energy to provide for their neighbors! Keep checking back on this page to see more and email joel@uniteboston.com if you have a testimony to be added here.
---
"It's such a loving thing for us to just share the most basic commodity of all, food, with each other. I think it's significant that when Jesus is loving his neighbor, he's providing food for them. He's usually sitting at a table, having a hospitable presence. I know we can't sit at a table with each other yet, but I'm hoping there would be a follow up where at some point we would sit at a table together somewhere as neighbors."
-Pastor Kimberley Morrison, Park Street Church
---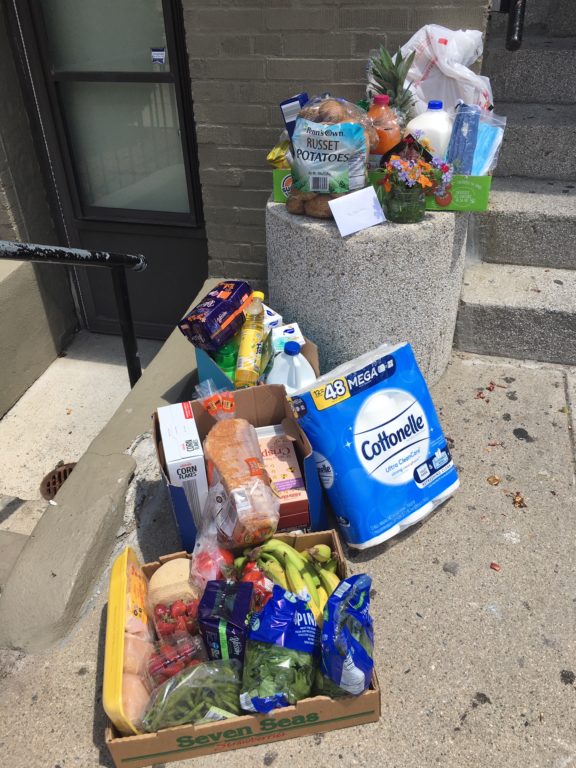 Rebecca responded within 3 1/2 hours and drove 15 miles to deliver the groceries! She also added flowers from her garden and a hand-written note. See the photo at the right with the groceries that she delivered. The family responded in a text to Rebecca, "Wow, I am super grateful! I appreciate all the help my family has received. This makes me cry. Thank you so so so so much. I don't know if you are a religious person, but God bless you. And please stay safe."
---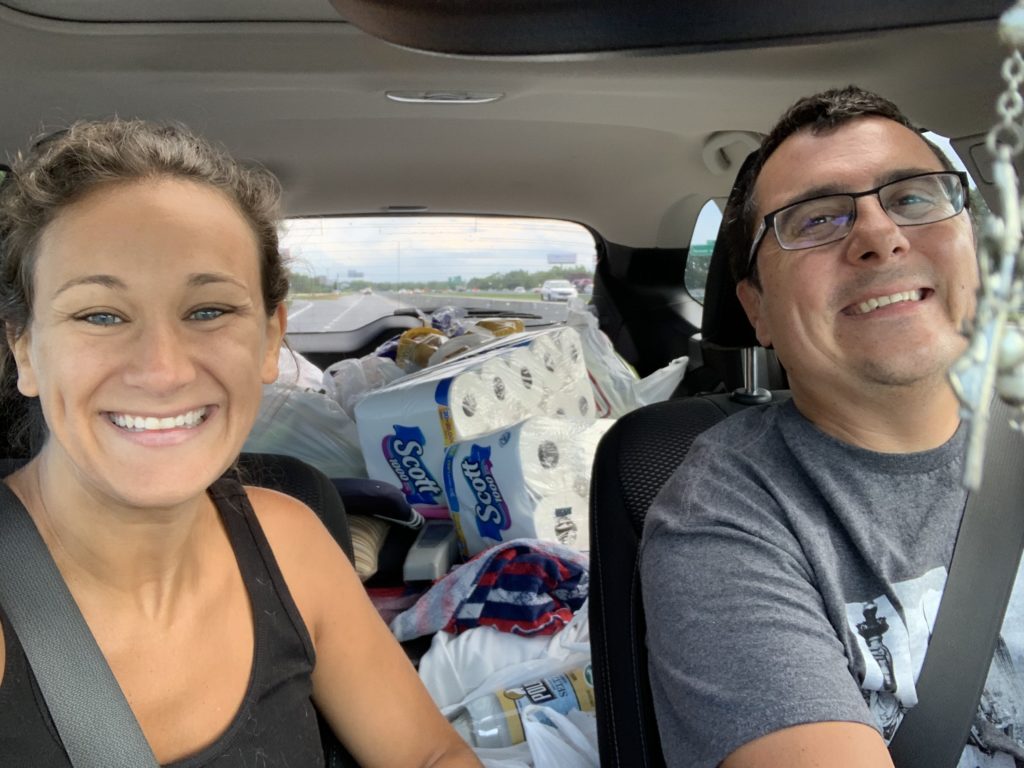 "At the moment I took a selfie of my packed car, my rosary that had been hanging from their rear view mirror swung into the picture. As a Catholic, this simple string of beads with a crucifix on the end (and the crucifix is the part that swung into the picture), is a tangible reminder every day of the sacrifice God made for us out of his love. It's so easy to get caught up in the culture of 'more' and 'never enough.' But the wisdom of Jesus invites the opposite: contentment, sense of abundance, generosity. This picture, to me, is of God's many daily reminders that he loves us and gives us this life to savor and share that love. We have enough. We have so much more than enough, and when we can be in that space, we are not far from God."
-Elizabeth Smith Woodard and Ben Woodard, Members of Holy Family Parish in Concord
---
"I just made my first COVID grocery delivery to a family that lived near me in Dorchester. When I rang the doorbell, a young girl came out, who helped translate to her family about why I was dropping off the groceries. I also pointed out the sheets that we had bought for them that they requested and her face lit up. That moment was worth everything to me. I also told them to call us if they needed anything else. I captured this photo to show my daughter about how we reached out to show God's love to our neighbors during quarantine."
-Kelly Fassett, UniteBoston Team Leader, member of River of Life Church in Jamaica Plain
---
Here is an inspiring video of Hannah overcoming obstacles to deliver food to one of her neighbors – via bicycle!
---
"Delivered the groceries! Praying for this family. I included a card as instructed. Interestingly, the main contact looked to me about 17 years old- he and his mom came down to get the groceries. I brought my 17 yr old son to help me shop and deliver. I was glad I did."
-Laura Perkins
---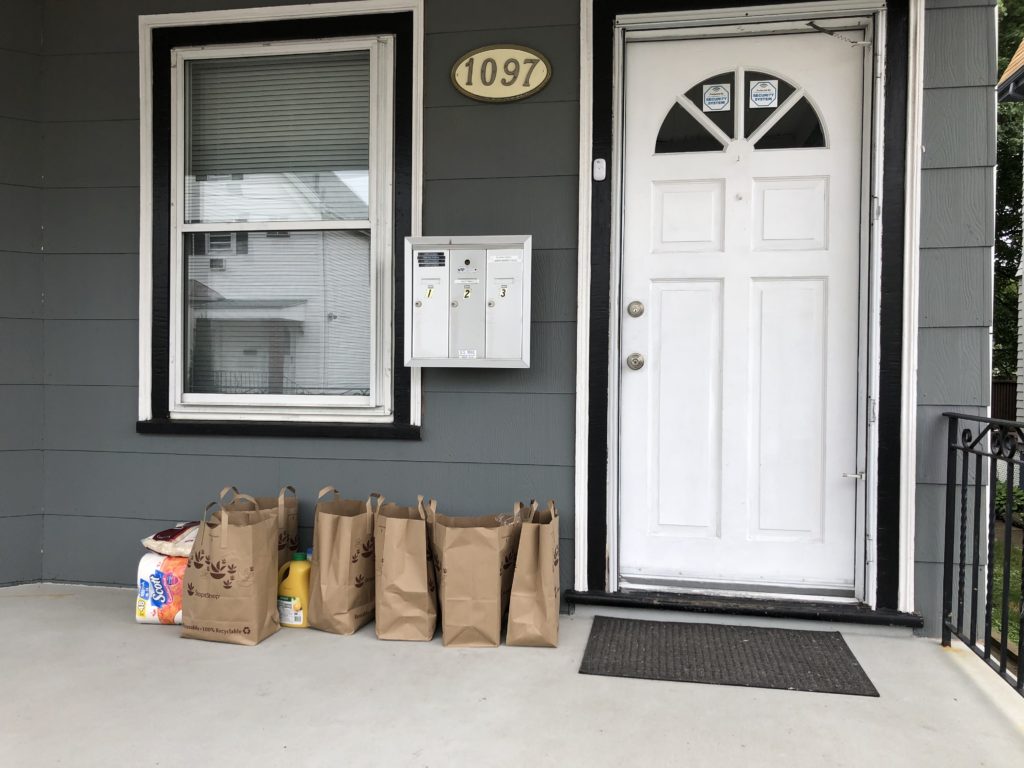 ---
Read How Peace Begins in God's Kingdom where Hannah Tam, a student at Harvard University and member of Park Street Church, reflects on her grocery delivery experience. She says, "Of the 5 years I've lived in Boston as a student at Northeastern and now at Harvard Medical, I have never been to a predominantly black neighborhood before, let alone interact with the residents. I realized that, while we live in a diverse city, we mostly interact with the people that are in the same socioeconomic status. That's what we're comfortable with. As a Christian, I realize that this is wrong. There's a delicate balance between reaching out to those who are in need the most and coming into the neighborhood unannounced and imposing a "white savior complex". I'm continuously praying for how we can help in a way that is in line with God's intentions. All in all, I think we both really enjoyed our experience."
---
Grocery Shopping for God – Patrick's Story
As a former executive chef, Patrick Lynch knows quite a bit about food shopping, But he was still daunted by the challenge of getting enough of the right kinds of groceries for a family of seven he had never met and knew little about to survive for two weeks. And yet, he believed that this was what God had called him to do.
The family of seven, a great grandmother, grandmother, mother, father, and three children, were on quarantine due to COVID-19. They had no local support to help them get the supplies they needed during their time of isolation. Patrick had been assigned to the family through UniteBoston's Love Thy Neighbor campaign. Names of families in need are generated by MA-COVID-19 Collaborative at the Department of Public Health and Partners in Health. Volunteers are then contacted and assigned a family. The volunteers purchase and deliver food to the families.
As Patrick pushed a bulging cart down the aisles of Stop & Shop and Whole Foods, he thought not only about the staples like rice and beans but also what extras might make the time easier like cake mix and frosting.
"I wanted to make sure they had what they needed," he said. "And, I wanted them to have things that would make them more comfortable."
He figured the cake would be both a treat and something they could do together.
It was the first hot day of the year when he went to deliver the food. Only after carrying the boxes up a flight of stairs did he realize he was at the wrong house. Far from being disgruntled, however, he laughed it off. He didn't even mind when he realized after dropping off the food that he'd forgotten to get milk and had to find a local store to get it.
He sees the experience, being a part of caring for this family, as a gift from God. Though the family was in need, Patrick said he was too.
"Every time I feel like I'm separated, Christ reaches out and pulls me back in and says this is what I have for you next," he explained.
Patrick lives in South Boston and is the Director of Dining at an assisted living facility in Jamaica Plain. Patrick grew up Catholic, has been involved at Park Street Church for four years, and has been a believer for about that same amount of time.
He was humbled by the reaction of the family, who offered their praise to God in texts to him: "We thank God for all things sir. Whatever HE allows to come our ways is for HIS Divine Will. To God be all Adorations, Praises, Thanksgiving….In Jesus' Mighty Name Amen."
The Love Thy Neighbor campaign has just 48 hours to match a family in need with a volunteer. Since the program was launched earlier this month, 65 volunteers from 12 churches across the city have been connected with 21 families – providing all of their groceries for 14 days of quarantine. Initially, volunteers are being matched with families within their zip code, but that may be expanded based on need.
There is a need for more volunteers so that if one can not accept an invitation on a particular day or time, another is available. To become a helper, fill out this online VOLUNTEER FORM.