"It's my favorite worship service of the year."
In my conversations with other Christians, I keep hearing this phrase repeated about various gatherings taking place around the city during Holy Week.
To this end, this year UniteBoston is starting a "Holy Week Pilgrimage" as an opportunity to join together with other Christians throughout Boston to set aside time to remember the significance of Christ's life, death and resurrection.
We know that it can be intimidating to go to a new church, so each of these gatherings will be "hosted" by a member of the UB team who will meet you beforehand to sit with others in the Christian community during the service.
To join the UniteBoston Holy Week Pilgrimage, indicate which services you are planning to attend by
clicking here.
The UB Host will email you about details for meeting up before the service. For questions, email Kelly at
Kelly@uniteboston.com
Jesus said to her, "I am the resurrection and the life. Whoever believes in me, though he die, yet shall he live, and everyone who lives and believes in me shall never die." (John 11:25)
This year, as Christians throughout Boston draw deeper in our understanding of the cross, may God also fill this city with His resurrection life.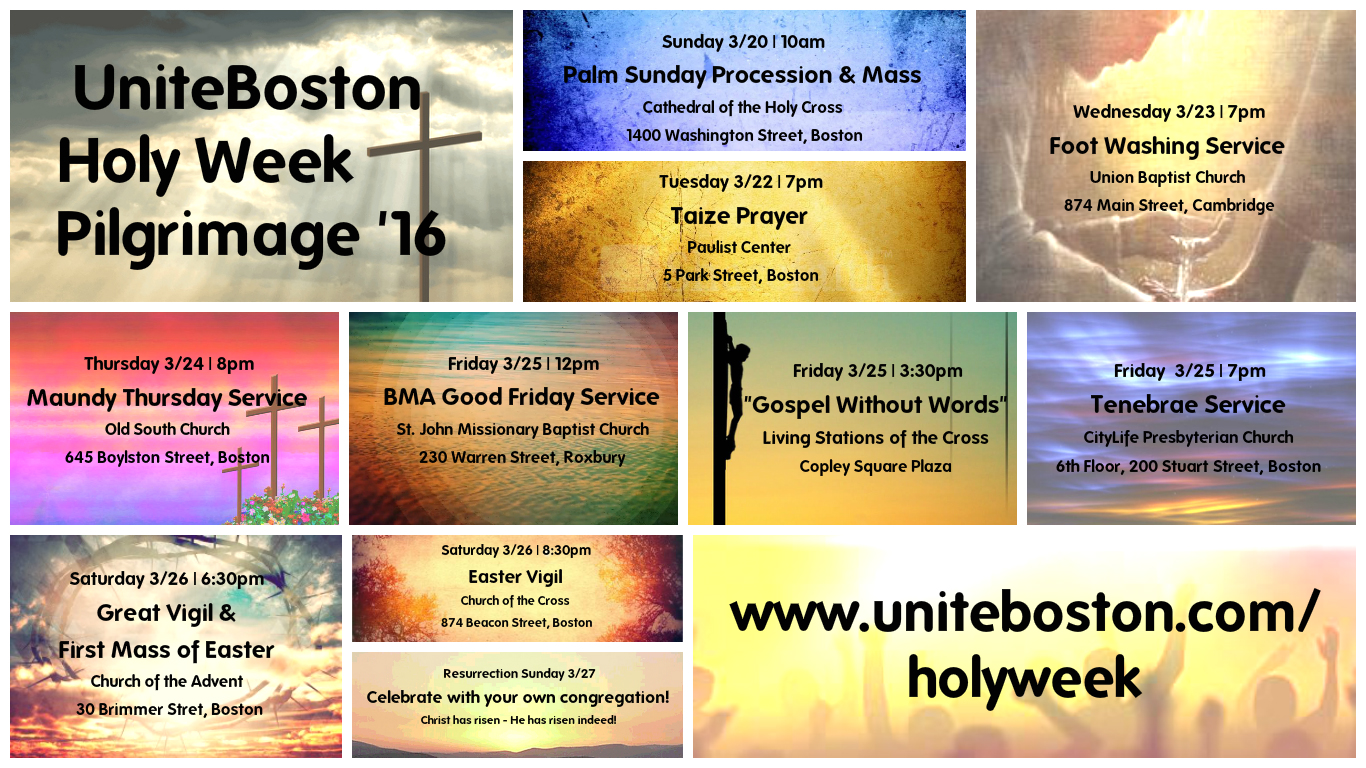 Sunday 
Palm Sunday Procession and Mass in Extraordinary Form
10:00am, Cathedral of the Holy Cross, 1400 Washington Street, Boston
Tuesday
Taize Prayer
7:00pm, Paulist Center, 
5 Park St, Boston, MA 02108
Taize is a simple and calming ecumenical evening prayer service, including scripture readings in multiple languages, candlelight, meditative singing, and time for silence. 
Wednesday 

Foot Washing Service
7:00pm, Union Baptist Church, 874 Main Street, Cambridge
This service incorporates a foot washing to remember the posture of humble servanthood that Christ demonstrated to us. Bishop Brian Greene will be the speaker.
Thursday 
Maundy Thursday Service 
8:00pm, Old South Church in Boston, 645 Boylston Street, Boston
This service combines modern jazz music with ancient liturgy of Tenebrae, where the stories of Jesus's passion are read, and after each reading a candle is extinguished. The service ends in darkness, and the congregation listens to the repetition of 39 dissonant chimes of low handbells, symbolizing the suffering of Jesus on the night of his arrest.
Friday 
Black Ministerial Alliance Good Friday Service
12:00 – 3:00pm at St John Missionary Baptist Church, 230 Warren Street, Roxbury
Hear from seven different pastors from different denominations throughout the city on the seven last words of Christ before his death and resurrection.
Gospel Without Words – Living Stations of the Cross 
3:30pm in Copley Square
In an arresting display of creative street theater and public art, Trinity Church Boston is presenting "Gospel Without Words"—living Stations of the Cross with participants from local congregations. Bus stops and crosswalks, as well as Copley Square's half-price theatre ticket booth and the Boston Marathon pavement medallion will serve as the modern-day setting for the retelling of the suffering and death of Jesus.
Saturday
The Great Vigil & First Mass of Easter
6:30pm, Church of the Advent, 30 Brimmer Street, Boston
The Great Vigil of Easter is the most dramatic and moving service in the entire church year. It is a service of waiting — waiting in darkness for light to dawn, waiting in the tomb of death for life to be born — then receiving that life in baptism and the Holy Eucharist. Join us to celebrate the first mass of Easter with lights, bells, incense, hymns, and shouts of joy! Check out the
article here!
Easter Vigil 
8:30pm, 874 Beacon Street, Boston
This service includes a choir, original music compositions, Scripture readings that outline the history of our salvation, an opportunity to reaffirm our baptismal vows, and the celebration of Holy Communion. Followed by a dessert reception that will last well past midnight! (Anglican)
Sunday
1:00 to 4:00pm, Ramsay Park, Boston
Join us to serve the community with worship, prayer, food , clothes, song, dance and the Word!
All week
"Sacred Spaces"
 Monday through Saturday at Grace Chapel Lexington and Grace Chapel Wilmington
Sacred Spaces: a self-guided retreat experience is designed to help you find time and space to reflect in the days leading up to Easter. Times vary slightly; click on the link for precise times at each campus.