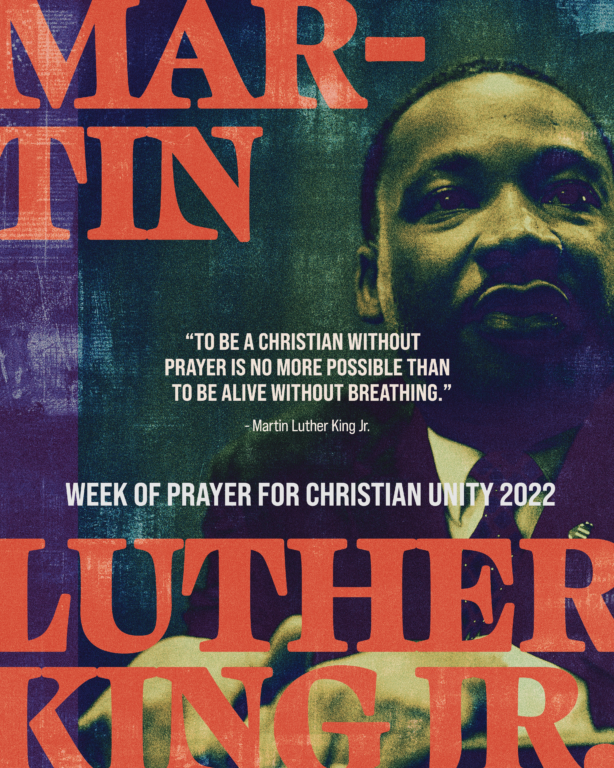 This week, we're featuring a blog written by UniteBoston's Communications Administrator Rev. Devlin Scott. Devlin shares six reflective prayer points based on Rev. Dr. Martin Luther King's book "Where Do We Go From Here? Chaos or Community?," to start off the Week of Prayer for Christian Unity. We recommend using these prayer points this week in personal devotional times, with your community group, or during your Sunday worship gathering. Read more below!
---
To be a Christian without prayer is no more possible than to be alive without breathing.

Rev. Dr. Martin Luther King Jr.
Many know the Rev. Dr. Martin Luther King, Jr. as a great civil rights leader, but fewer know him as a brilliant intellectual, keen observer of and prophetic voice to American society. His voice was often like a "north star," guiding those seeking to behold a world that looks more like the one God, our Creator, intended. His final book before he was murdered, Where Do We Go from Here: Chaos or Community?, points to the need for deep and lasting change. This provided hope of reaching the place we all long for this world to be – the united church, as Jesus' hands and feet, leading the way to reveal The Great Hope that knits us together – The Messiah.
With this book, we are exposed to ideas from 55 years ago presented with such clarity and elegance that they continue to have great relevance to our society today, especially amidst the division, discord, and inequities that have only grown during the pandemic. Unfortunately, we are still waiting on the change he prophetically called us to embrace. When considering the unity of Christians around the world, consider what often causes that unity to feel distant and hard to reach. Ask yourself, "how can Boston become a better place for people of ALL backgrounds?" Prayer that is guided by the wisdom of Rev. Dr. King's book is a wonderful starting point for this week.
With this in mind, we invite you to use these six prayer points, contextualized by the chapters of Rev. Dr. King's book, to start off your Week of Prayer for Christian Unity.
In Chapter 1, Dr. King asked the question, "Where Are We?" By 1967, white Americans were ready to stop outright cruelty, but were not committed to full equality and dignity for African Americans. Allyship is necessary. God, call those who aren't affected by racism and injustice to have heart for it to change. Break our hearts with the things that break yours.
In Chapter 2, Dr. King discusses "Black Power." His point is centered around the struggle to both find common ground across race and class lines and also help oppressed people experience their own empowerment and self-determination. Many BIPOC people are exhausted from the consistent fight for justice, equity and equality. Holy Spirit, refresh those who are weary and restore safe spaces to be recharged.
In Chapter 3, Dr. King acknowledges the common tango of the fight against racism and backlash from white people. In the words of Frederick Douglass, "Power concedes nothing without a demand. It never did and it never will" (Frederick Douglass, 1857). Protests and demonstrations were met with intense backlash; this cycle/ pattern has deepened the wounds in the relational history of BIPOC and white Christians. Oh God, may mercy be our response, as it was Christ's response. May grace avail, as it does for You.
In Chapter 4: Dr. King describes the dilemma of African Americans. King says, "Those who start behind in a race must forever remain behind or must run faster than those in front." This is not what God intended for mankind – not one of them. No race, ethnicity, gender or person was created to be beneath another human. God created them in His image. God, may there be reparation to repair the deep systemic injustices in our world. May I be used as a voice in the wilderness.
In Chapter 5, Dr. King asks the question, "Where Are We Going?" The way to end racism is through collaborative action that depends on mutual gain and sacrifice among diverse groups. The interests of multiple parties must be served. When they are served by ending racism, racism will end. What is the mutual benefit for Christains to see an end to mistreatment of God's people? It is not our witness that the whole world may know His love? God, please reveal to us what it would take to end racism and injustice and give us the courage to act on it so that You may be glorified.
Finally, in Chapter 6, Dr. King envisions "The World House." King describes the civil rights movement as part of a world struggle against racism, poverty, and militarism. To achieve genuine liberation, the U. S. movement and its allies must build a coalition that can cross borders and achieve international peace and prosperity. The challenge is whether Americans will see their self-interest in supporting this world movement leading to community — a great "world house" — or oppose it leading to a world of chaos. Peace and progress in the U.S. alone is not the answer. Peace on earth and good will toward ALL people is God's intent.
This year's Week of Prayer for Christian Unity was developed by the Middle East Council of Churches and, in particular, churches in Lebanon. Present times in Lebanon are extremely difficult and economically disastrous. All this combined with the effects of the COVID-19 pandemic have made the situation tremendously stressful. The power of prayer in solidarity with those who suffer is a demonstration of Christian unity and a sign of communion.
God, be with Your children who are suffering all over the world. I acknowledge my privilege and the blessings You continue to allow me to enjoy in America. I pray for change to come to the most marginalized places and people groups around the world, and may the change start with me.
Let us be those creative dissenters who will call our beloved nation to a higher destiny, to a new plateau of compassion, to a more noble expression of humanness.

Rev. Dr. Martin Luther King Jr., Where Do We Go From Here: Chaos or Community?