Religious Leadership & Public Repair: A Conversation with Rob Schenck and Abigail Disney
October 15 from 7:30 pm

-

9:00 pm

Free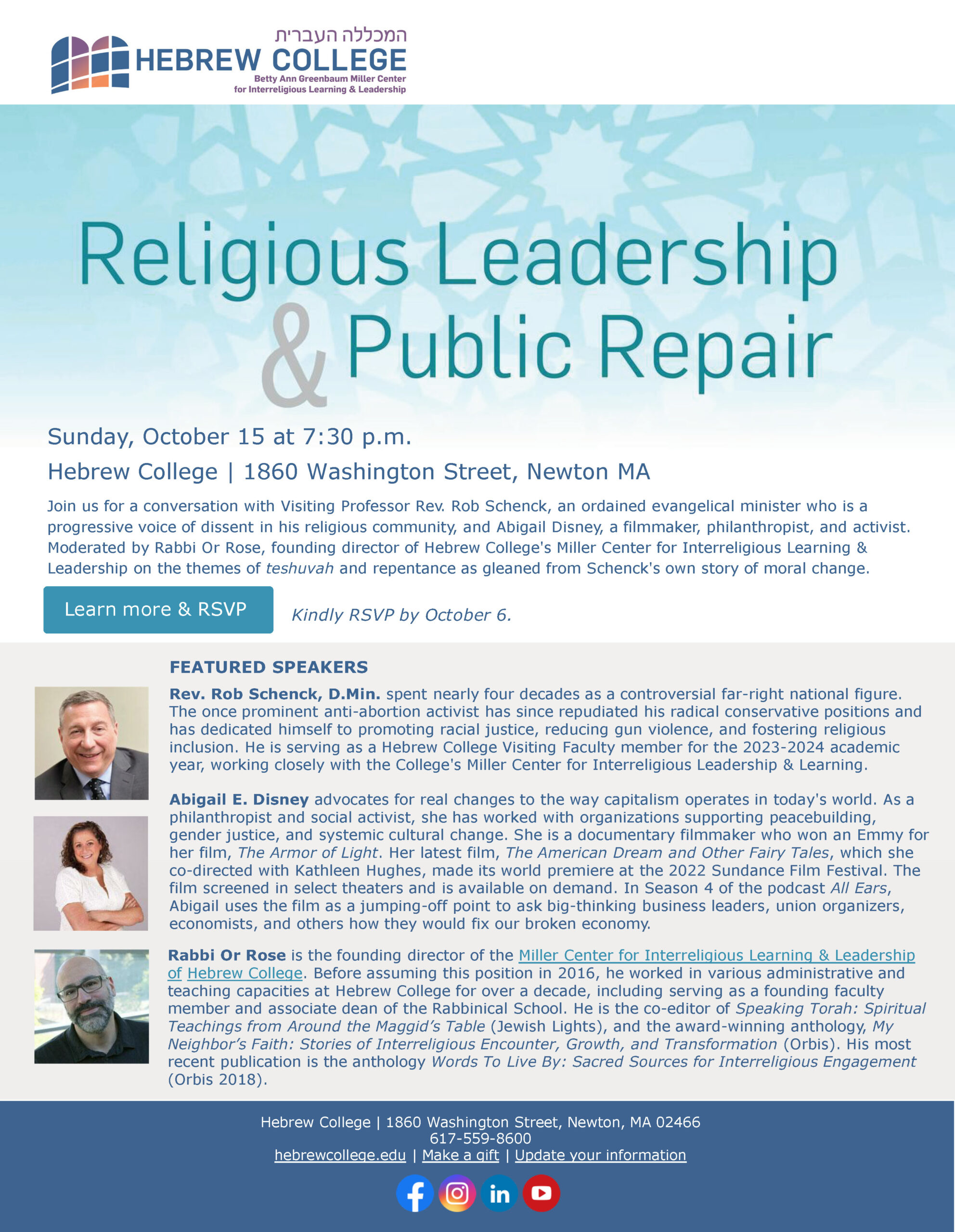 Join Hebrew College for "Religious Leadership & Public Repair": A conversation with Rev. Rob Schenck, an ordained evangelical minister and a progressive voice of dissent in his religious community and Abigail E. Disney, Filmmaker/Philanthropist/Activist.
The conversation, moderated by Rabbi Or Rose, Director of Hebrew College's Miller Center for Interreligious Learning & Leadership, will include clips from Disney's award-winning documentary, The Armor of Light, to explore Schenck's evolution as a minister, his relationship with Disney, and their reflections on the need to forge relationships across divides. This will include discussion of lessons learned, current projects, and future possibilities.
The event is free and open to the public. Registration is required.
About the Film
The film captures Schenck's journey of conscience, as he began to question the consistency of the pro-gun and pro-life stances of the far-right evangelical movement that he represented at the time. This would eventually lead to Schenck's break from evangelical orthodoxy on guns, abortion, and the public display of religious symbols.
Our Speakers:
Reverend Dr. Rob Schenck spent nearly four decades as a controversial far-right national figure. The once prominent anti-abortion activist has since repudiated his radical conservative positions and has dedicated himself to promoting racial justice, reducing gun violence, and fostering religious inclusion. He is serving as a Hebrew College Visiting Faculty member for the 2023-2024 academic year, working closely with the College's Miller Center for Interreligious Leadership & Learning.
Abigail E. Disney advocates for real changes to the way capitalism operates in today's world. As a philanthropist and social activist, she has worked with organizations supporting peacebuilding, gender justice, and systemic cultural change. She is a documentary filmmaker who won an Emmy for her film, The Armor of Light. Her latest film, The American Dream and Other Fairy Tales, which she co-directed with Kathleen Hughes, made its world premiere at the 2022 Sundance Film Festival. The film screened in select theaters and is available on demand. In Season 4 of the podcast All Ears, Abigail uses the film as a jumping-off point to ask big-thinking business leaders, union organizers, economists, and others how they would fix our broken economy.
Rabbi Or Rose is the founding Director of the Miller Center for Interreligious Learning & Leadership of Hebrew College. Before assuming this position in 2016, he worked in various administrative and teaching capacities at Hebrew College for over a decade, including serving as a founding faculty member and Associate Dean of the Rabbinical School. Rabbi Rose was also one of the creators of CIRCLE, The Center for Interreligious & Community Leadership Education, cosponsored by Hebrew College and Andover Newton Theological School (2007-2017).
Email us with any questions, and register here today!
Related Events