Boston United Worship & Mizpah Prayer Awakening
August 6, 2021 from 7:00 pm

-

9:00 pm

|

Recurring Event

(See all)

One event on August 27, 2021 at 7:00 pm

One event on September 3, 2021 at 7:00 pm

One event on September 10, 2021 at 7:00 pm

One event on September 17, 2021 at 7:00 pm

One event on September 24, 2021 at 7:00 pm

One event on October 1, 2021 at 7:00 pm

One event on October 8, 2021 at 7:00 pm

One event on October 15, 2021 at 7:00 pm

One event on October 22, 2021 at 7:00 pm

One event on October 30, 2021 at 6:00 pm

Free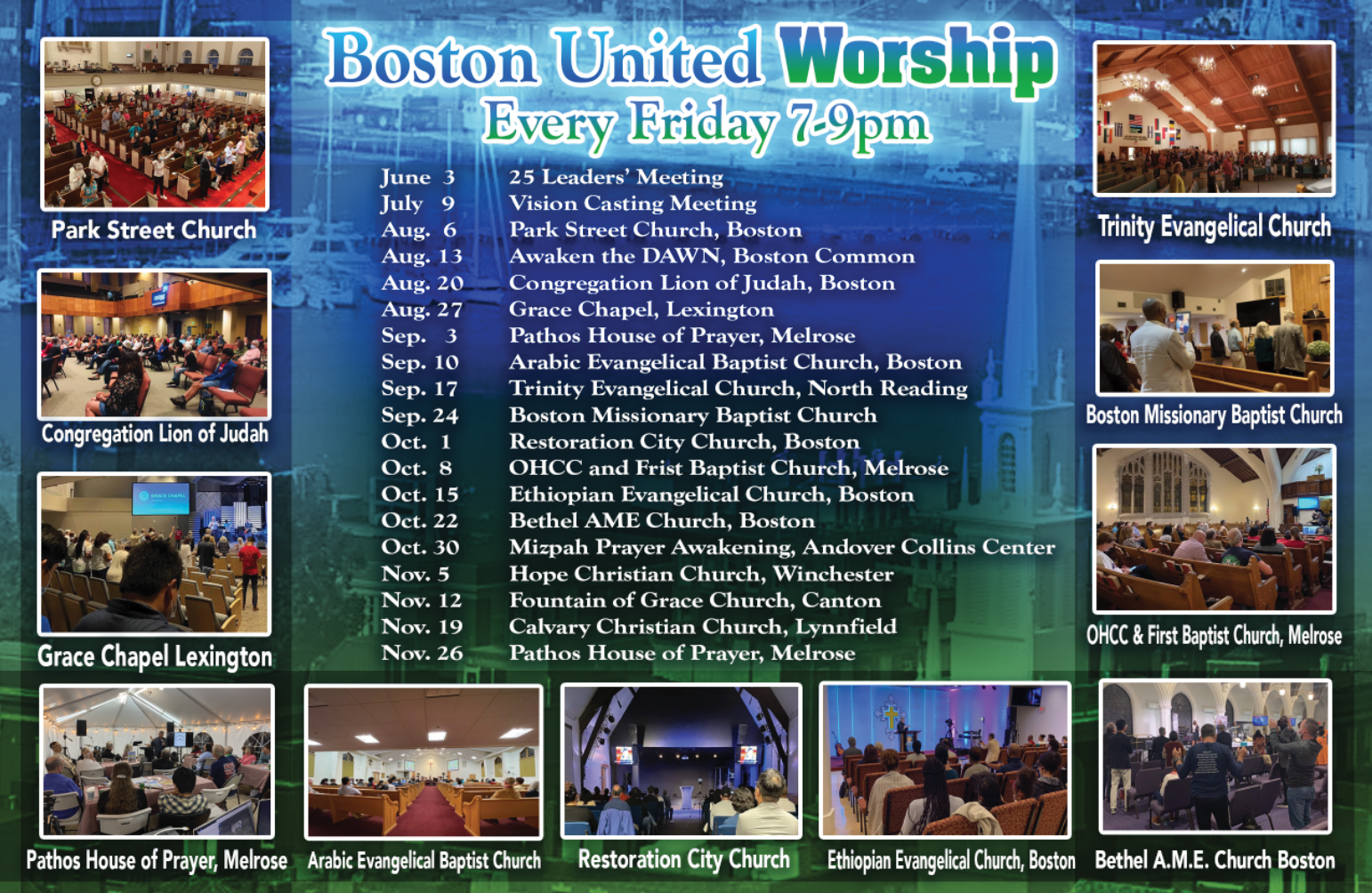 Greetings in Jesus name!
"Do not cease to cry to the Lord our God for us, that he may save us from the hand of the Philistines." (1 Sam. 7:7-8)
The coronavirus, which began at the end of 2019, became a worldwide pandemic in 2020. The whole world groaned under its impact. Many churches in Boston and New England began to worship remotely. However, as the way for face-to-face worship was opened, church services that were tightly closed are starting here and there. This is the time to worship and cry out in unity. Now is the time to quickly turn back to the presence of God as we confess our sins for forgiveness from the Lord.
My prayer is that the churches in Boston and New England will now unite in worship, repentance, and thanksgiving. This coming together needs to transcend the lines of race, denomination, and generation. I am proposing interdenominational church gatherings to pray for a spiritual awakening in the Boston area.
With crises like the pandemic, we need to awaken the Christians and churches in the greater Boston area and New England. We pray that God will open up a new well of revival in Boston, the home of the Puritans. We ask for a real wave of revival in Boston, where the spiritual decline of some churches has been very noticeable.
On June 3rd, there was a wonderful meeting with twenty-five key leaders from Boston and New England. In this meeting, we were able to discuss the unity and collaboration of the Body of Christ in greater Boston and New England. After the meeting on June 3rd, the Holy Spirit touched us to initiate united worship and prayer gatherings among churches and parachurch organizations – 67 key regional leaders in total participated for a Banquet and Vision Casting Meeting at Hilton Hotel Woburn/Boston's Grand Ballroom on July 9.
Please spread the word to your churches and networks – We invite all God's people to join together in prayer! For more information, contact Dr. Elijah Kim at elijahjfkim@gmail.com.
You can also click here to watch the Youtube video from the Vision-Casting Gathering on July 9, read the July 9 vision-casting meeting report, or read the Boston United Worship statement.
Related Events